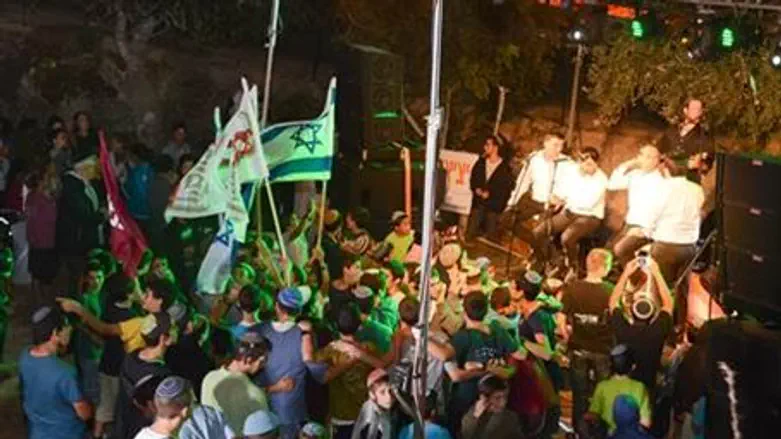 Psagot celebration
Israel news photo: Oshrat Cohen
Two weeks ago, nine-year-old Noam Glick was attacked by a terrorist as she played on the balcony of her family home in Psagot, north of Jerusalem. On Thursday, her family gave thanks for her survival with a celebration.
Among those who came to celebrate with the family were Members of Knesset Yariv Levin (Likud Beyteinu) and Orit Struk (Bayit Yehudi/Jewish Home), both members of the Knesset's Land of Israel Lobby.
Avi Roeh, head of the Binyamin Regional Council, was present as well.
"We need to clearly say that this is our land," Levin declared.
He added, "I'm sure that the town of Psagot will grow stronger, expand and flourish in wake of this incident."
Levin hinted at criticism of Israel's ongoing talks with the Palestinian Authority, saying, "An enemy who harms a 9-year-old girl must be defeated, not made peace with."
The terrorist who attacked young Noam earned praise from the Fatah movement, which is led by PA Chairman Mahmoud Abbas, the PA's highest-ranking leader.
MK Struk said, "While some of our [national] leaders are displaying weakness these days, we see this town is facing challenges with bravery and strength."
Noam's father, Yisrael Glick, thanked the many people who helped his family following the attack.
credit: אושרת כהן
credit: אושרת כהן
credit: אושרת כהן
credit: אושרת כהן
credit: אושרת כהן
credit: אושרת כהן