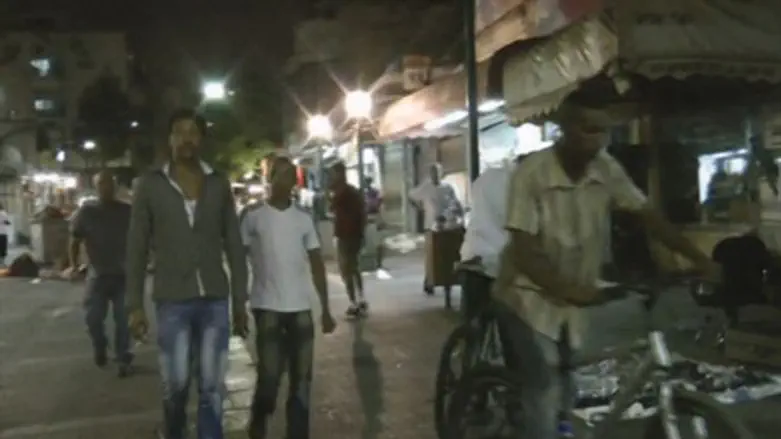 Illegal aliens in South Tel Aviv
Yoni Kempinski
At a meeting held Thursday morning, Prime Minister Binyamin Netanyahu directed that new legislation be advanced that would allow the holding of illegal migrants, in keeping with recommendations submitted by Interior Minister Gideon Saar.
Attorney General Yehuda Weinstein, Prime Minister's Office Director General Harel Locker and Haggai Hadas – who has been appointed by the Prime Minister to handle the issue of the repatriation of migrants, as well as representatives of the Justice, Interior, Finance, Foreign Affairs and other ministries, also attended the meeting.
Netanyahu referred to the actions necessary to repatriate illegal migrants in light of the High Court of Justice ruling that struck down a law that made it possible to detain migrants for extended periods.
"It will be impossible to stop illegal migration only by means of a fence," he stated. "We must continue with the combination of means that has led to an absolute halt in illegal migration into Israel: A physical barrier alongside efficient legal and economic tools. Illegal migrants have no extra rights at the expense of Israeli citizens."
Interior Minister Saar said, "The concept according to which a fence alone will stop people who walk thousands of kilometers and spend their money in order to secure a better future for themselves is detached from reality.
"New legislation is needed to respond to the situation that has been created in the wake of the High Court of Justice ruling," said Saar. "Israel is the only Western country that has a land border with Africa. In the struggle against illegal migration, we must take clear and urgent action because the future of our country is at stake. Just as many Western countries understood – frequently too late – the phenomenon of illegal migration cannot be dealt with via ordinary tools accompanied by a detached discourse on rights. In the plan that I have presented, there are components that will allow us to deal with the phenomenon."
Interior Minister Saar presented the main points of his recommendations in the wake of the High Court's ruling. He also discussed how other countries – including Australia, Switzerland and others – deal with the phenomenon of labor migrants from Africa.
Attorney General Weinstein said, "We will work toward upholding and carrying out the Supreme Court decision. The solutions that will be found will also be in keeping with the ruling and with the rationale behind it, and as the Prime Minister said – we will use legal means to realize the goals that he referred to."