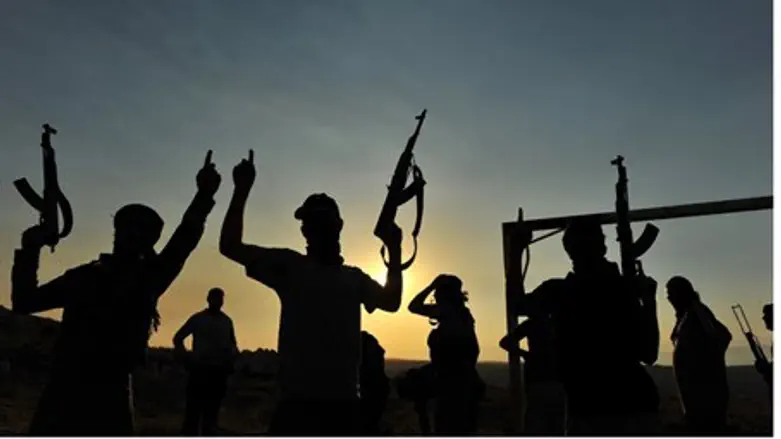 Jihadists
AFP photo
Turkey's army said on Wednesday it had fired on Al-Qaeda-linked rebels in northern Syria after a stray mortar bomb hit Turkish territory, reports Reuters.
Fighters from the Al Qaeda-affiliated Islamic State of Iraq and the Levant (ISIL) have seized territory in parts of Syria near the Turkish border in recent weeks, leaving the already fragile frontier even more vulnerable.
Turkey's general staff said the army had fired four artillery shells on Tuesday at ISIL positions around Azaz, a strategic area seized by the jihadist rebels last month.
Turkey has repeatedly carried out such retaliatory action when fire from Syria has hit its soil in the past but this appeared to be the first time it had targeted ISIL fighters.
The military said a mortar bomb was fired from the Azaz/Parsa mountain area of northern Syria at around 1:30 p.m. local time on Tuesday and landed, unexploded, 450 meters (1,500 feet) east of a military border post at Demirisik in Kilis province.
"In response to this situation, four shells were fired by two Firtina (Storm) howitzers at positions of the Islamic State in Iraq and the Levant in the Azaz/Parsa mountain," it said, according to Reuters.
It was not clear if the shells caused any damage.
Things have been tense on the Syria-Turkey border for months, but the tension up till now has mostly been between the Turkish army and Syrian President Bashar Al-Assad's troops.
Turkey has lobbied for Assad's ouster and provided shelter for Syrian rebels seeking to overthrow him.
In response, the Syrian regime has threatened Turkey with the publication of a list of "targets" that could be hit if Western armies were to intervene in Assad's battle against rebel armies. Among the targets were strategic positions in Turkey, along with sites in Israel and Cyprus.
In mid-2012 Syria shot down a Turkish plane. Syrian officials later said that the shooting was an accident, and explained that troops may have mistaken the plane for an Israeli one.
Syria's army blasted Turkey for shooting down the Syrian helicopter this week, saying that Turkey had been "hasty" in its decision and accusing Turkish Prime Minister Tayyip Erdogan's government of trying to escalate tensions along the border.
Last month, Turkish warplanes shot down a Syrian helicopter which Ankara claimed violated its airspace. Turkey later warned Damascus it would "face the consequences" if it sought to avenge the incident.
A year ago Turkey's parliament gave the government the green light to use military force against Syria if necessary. This move came after a Syrian mortar landed in Turkish territory, killing five civilians.