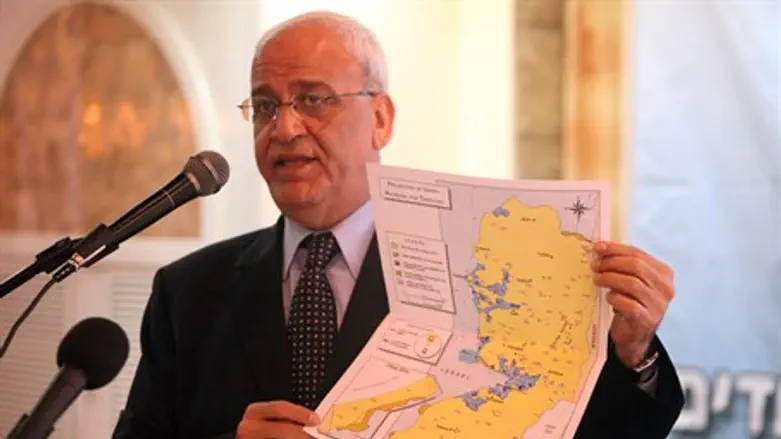 Erekat in talks
Flash 90 archives
A state official has told Israel's Maariv newspaper of a land transfer proposal being discussed in talks between Israel and the Palestinian Authority (PA).
Talks are currently taking place between MK Tzipi Livni (Hatnua) and Saeb Ererkat, Chief Negotiator of the Palestinian Authority (PA), after US Secretary of State John Kerry kick-started the dormant peace process a few months ago.
The newspaper reported Wednesday morning, that during the framework of negotiations a proposal has been tabled that would see Israel transfer land near Shechem to the PA. This would be compensated by Israel annexing other areas in Judea and Samaria (Yehuda and Shomron).
According to the report, Israeli sources have spoken about the matter to avoid reports being leaked to media. This has already happened frequently on the Palestinian Arab side, despite pledges to the contrary at the start of negotiations.
Even though talks have received significant media interest, many analysts are not optimistic about their chances of success.

Last week, writing for Arutz Sheva Hebrew site, MK Tzahi Hanegbi (Likud) expressed his view that it was impossible that the Palestinian Arabs would agree to the lines Netanyahu had laid down for the talks.

Netanyahu's position asserts the non-divisibility of Jerusalem, demands Israel maintain control of the Jordan Valley, as well as annexing areas of growing settlement blocs in Judea and Samaria. In addition, the prime minister has refused to accept the so-called "right of return" for Arabs who left Israeli territory during the various Arab-Israeli wars, and demanded that the PA declare it recognizes that Israel is a Jewish State.
Netanyahu says that Israel needs to retain control of the Jordan Valley to maintain its security. He also argues that the flooding of Israel with Palestinian Arab third and fourth generation "refugees" would destroy the country's Jewish character and possibly the country itself.

According to the Maariv report, there is a suspicion in Israel that at the end of the nine months allocated for the Livni-Erekat talks, the US will publicize a document accusing Israel of torpedoing the talks. In order to prevent the publication of this document, the report said, efforts were being made to discuss the possibilities of land swaps. 

The recent spate of terrorist attacks by PA Arabs has led to calls by many MK's to curtail talks or at best to discuss whether they are worth continuing.
Doubts were also placed on the progress of the talks by Israel's prime minister. On his recent trip to the US at the start of October, Netanyahu reportedly told Americans in a closed meeting that "the talks were going nowhere."