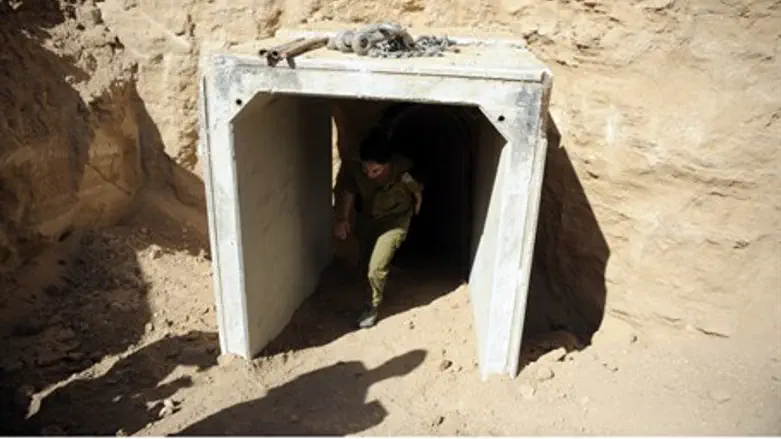 Entrance of previous tunnel uncovered by IDF
Flash 90
Two days after the discovery of an underground tunnel stretching from Khan Yunis in the Gaza Strip to farmland in Israel's Kibbutz Ein Hashlosha, a senior figure on the kibbutz says its members are calm, standing strong and confident that the IDF will continue to protect them in the face of Palestinian Arab terror.
​The IDF has said the tunnel that was found by troops after farmers reported hearing unusual underground noises, was at the heart of a plan to attack the kibbutz kindergarten.

Kibbutz Ein Hashlosha, meaning Spring of the Three, is located on the border with Gaza. It was established during the 1950's by a group of soldiers from the Nahal Brigade, who were also members of the Zionist youth movement Hanoar Hatzioni. The kibbutz was named after three youth movement members killed during the 1948 War of Independence.

Danni Cohen, Head of the Emergency Response team at the kibbutz told Arutz Sheva that kibbutz residents were calm after the discovery of the 2.5 kilometer tunnel.

"We weren't surprised by the discovery of the tunnel. Unfortunately, we have lived with a security probem for many years now because of the kassams and mortars, we know the Palestinian Arabs are constantly trying to dig tunnels." Cohen said.

The kibbutz along with the other Israeli communities in the south near Gaza have been the target of kassam and mortar attacks from Hamas, Islamic Jihad and other Palestinian Arab terror groups in the Hamas-controlled area.

Cohen added that the kibbutz was used to having to be prepared for such eventualities.

"We haven't slept peacefully for years now," he said, explaining that during operation Pillar of Defense, almost exactly a year ago, "60 homes here were damaged, and in recent months, the sound of [rocket] fire is heard once a week to ten days."

He added, "We are a very strong community that has lived with this reality for many years," and said that kibbutz members had expressed their full confidence in the IDF to protect them now and in the future.

Cohen emphasized that not only hadn't residents left, but that new members had actually joined the kibbutz. "350 people live here," he said proudly, " families with children, and those who come here, do so because it is as an area which is generally beautiful and pleasant." He continued, "The kibbutz has grown over the years, just last summer another four families moved here."

In response to the discovery of the tunnel lined with Israeli concrete slabs, Israel has temporarily stopped allowing shipments of construction supplies, meant for building civilian structures, to reach Gaza through Israeli territory.