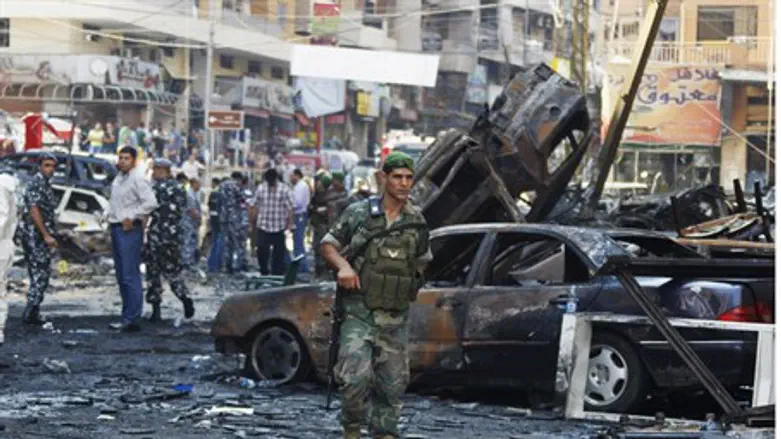 Aftermath of August bombing in Beirut
Reuters
The Lebanese army claims to have thwarted another car bomb attack on a Hezbollah-dominated neighborhood in Beirut on Monday.
Bomb disposal experts were summoned after a "suspicious" vehicle was seen in the Maamura area of the capital's southern suburbs.
Upon closer inspection the vehicle turned out to be "rigged with explosives," according to an army source, and it became clear that a bombing attack against the Iranian-backed group and its supporters had been narrowly averted.
Fighters from both sides of the Sunni-Shia divide in Lebanon have been streaming across the border to fight on opposing sides in the Syrian civil war, threatening the already tense status-quo between different sectarian groups inside Lebanon itself. 
Sunni radicals have targeted the Shia terrorist group numerous times over the past year, after it was revealed that Hezbollah was sending fighters to back embattled Syrian President Bashar Al-Assad against the primarily Sunni rebel movement. 
Hezbollah has been accused of participating in the slaughter of Syrian civilians, as well as other war crimes. In a recently released video, Hezbollah fighters are seen executing unarmed prisoners after dragging them from a van.
At least 20 people were killed on August 15 by a large explosion in the Hezbollah stronghold in Beirut. A month earlier, over 50 people were wounded when a car bomb exploded in the same area.
On August 23, more than 45 people were killed after twin car bombs exploded outside Sunni mosques in the Lebanese city of Tripoli.
The increased pressure on Hezbollah is seen as a key reason in the group's recent decision to withdraw more than one thousand of its fighters from Syria.
The increasingly sectarian civil war in neighboring Syria has threatened the already tense status-quo between different sectarian groups in Lebanon.