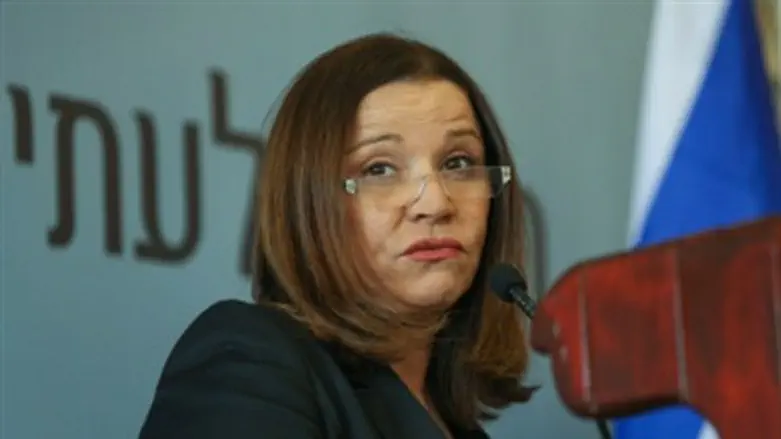 MK Shelly Yechimovich
Israel news photo: Flash 90
In her opening speech at the Knesset's winter session, Labor Party head and opposition leader Shelly Yechimovich took the opportunity to attack Prime Minister Binyamin Netanyahu for a number of his policies.
In particular, while she agreed with Netanyahu that Iran posed a danger to Israel, she said, Netanyahu was far too dramatic in presenting the threat.
"Why the talk of the 'apocalypse?'," asked Yechimovich "We survived Pharaoh in Egypt, we lived through the destruction of the First and Second Temples, the Holocaust, the War of Independence, the Yom Kippur War, and much more. The Jewish people are not in danger."
Speaking earlier, Netanyahu discussed the Iranian nuclear program, saying that it was a threat not only to Israel's security, but to the world's security.
 "The entire region will be endangered, as will the world," if Iran attains nuclear weapons, Netanyahu said. "However, there is no doubt that we will be Iran's first target. The Iranians say this out loud. We will not allow Iran to develop nuclear weapons," he said.
Yechimovich also decried the announcement last week by Teva Pharmaceuticals that it would lay off about 5,000 workers worldwide, with some 800 expected to be Israeli workers. The Labor head complained that Netanyahu did not mention the layoffs in his speech.
"You say that you are concerned with the welfare of Israelis, but you have nothing to say about Teva? Eight hundred families will now find themselves in a new reality of despair and poverty. It is a massive 'terror' attack," she said.
Regarding talks with the PA, Yechimovich complained that she and other MKs were in the dark as to the progress of the talks.
"As opposition leader I hereby request a full report on the talks," she said. "We are the Knesset, and we will have to decide on these matters eventually. How many meetings have been held between Israeli and PA teams? What are the objectives, and what milestones are we trying to reach? What if the talks break down? Do you have a plan regarding the settlement blocs?"
In his speech, Netanyahu said that if an agreement is signed, it will be one that promises Israel a long-term, stable peace.
"How is it that when the Palestinians demand that we recognize their nationhood that they refuse to recognize ours," Netanyahu asked. "The Jewish people have been in existence for 4,000 years. Why do we not deserve recognition?"
Netanyahu also dismissed voices in Israel that said PA recognition of Israel as a Jewish state was unnecessary. "The question is not why we are raising this point, but why the Palestinians continue to delay an agreement over this."