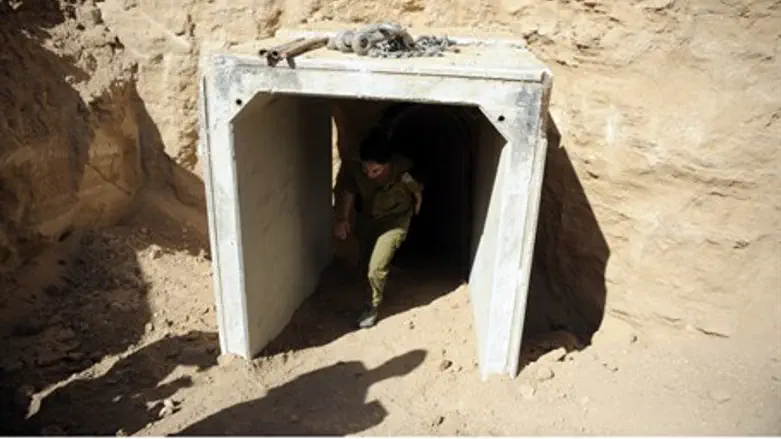 Entrance of tunnel uncovered by IDF
Flash 90
Hamas accused Israel on Sunday of "exaggerating things", after it was made public that IDF soldiers recently discovered a tunnel, built by Gaza terrorists, that led from Gaza to a nearby Israeli community.
By talking about the discovery of a tunnel, Israel was "trying to justify the blockade and the continuous aggression on the Gaza Strip," Hamas spokesman Sami Abu Zuhri said, according to the BBC.
A spokesman for the military wing of Hamas, al-Qassam Brigades, was quoted by the BBC as having said on Twitter that "the minds which manage to dig the tunnel can dig dozens more."
Prime Minister Binyamin Netanyahu commended security forces for discovering the tunnel.
"I want to commend the IDF for uncovering this tunnel. This is our policy - an aggressive policy against acts of terror, as well as to thwart (attempts), using intelligence operations, pro-active and reactive measures, and of course, Operation Pillar of Defense," he said during Sunday's weekly cabinet meeting.
Abu Zuhri also responded to Israel's decision to temporarily suspend shipments of construction supplies to Gaza through Israeli territory, saying the decision was further proof that the actions taken by the Egyptian military to shut down the smuggling tunnels to Gaza were wrong.
Egypt is currently conducting a large-scale campaign to retake control of the Sinai region which has become a hotbed for terrorism. As part of the campaign, the army has taken several steps that have put pressure on Hamas, including destroying many of the smuggling tunnels between Gaza and Egypt and shutting down the border.
Egypt is accusing Hamas of being involved in teaching Islamists in Egypt how to carry out attacks. Hamas has denied the allegations.
Photos of terror tunnel discovered by the IDF / Flash 90: