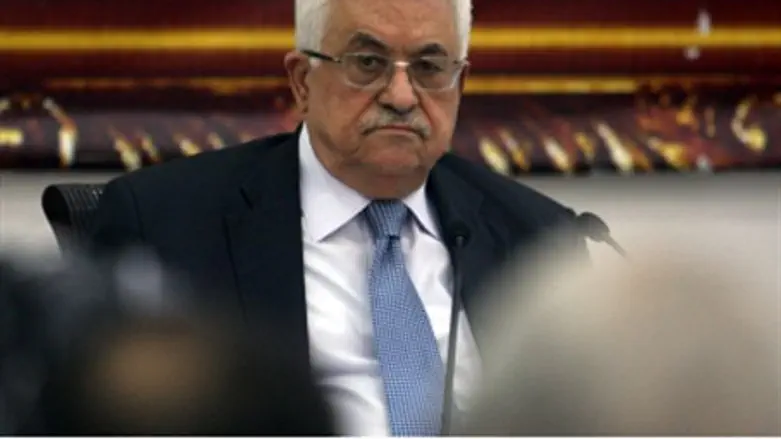 Mahmoud Abbas
Israel news photo: Flash 90
Palestinian Authority Chairman Mahmoud Abbas blamed Israel over the weekend for the PA's difficult economic situation, reports the Ma'an news agency.
In an interview with official television, Abbas expressed concern that the PA would not be able to pay salaries for its employees in November but, as he usually does, found who to blame for it: the Israeli "occupation".
"The economic situation is really difficult, and the main reason is the Israeli occupation," Abbas said.
"Israel exploits our resources and lands which increased our economic deficit," charged Abbas, who said that his minister of finance, Shukri Bishara, had informed him that the government would not be able to pay salaries unless international aid arrives.
"We must take responsibility according to the law," he added, according to Ma'an. "We are working on improving our abilities and lowering the unemployment rate by supporting small enterprises."
The PA has complained of a financial crisis, the worse in its history, with its former Prime Minister Salam Fayyad having warned several times that the entity may fail and cease to exist.
The PA, which relies heavily on foreign donors, has been begging the world to step up financial aid in order to save it from collapsing. At the same time it has continued to provide huge monthly salaries to terrorists serving time in Israeli prisons.
The PA leadership has also continuously blamed Israel for its financial crisis, even though Israel collects taxes for the entity and provides it with electricity which the PA fails to pay for.
In June, Israel and the PA decided to resume the economic cooperation between them and, more recently, agreed to renew the agricultural accords that were in place prior to the outbreak of the "Second Intifada" terror war in 2000.