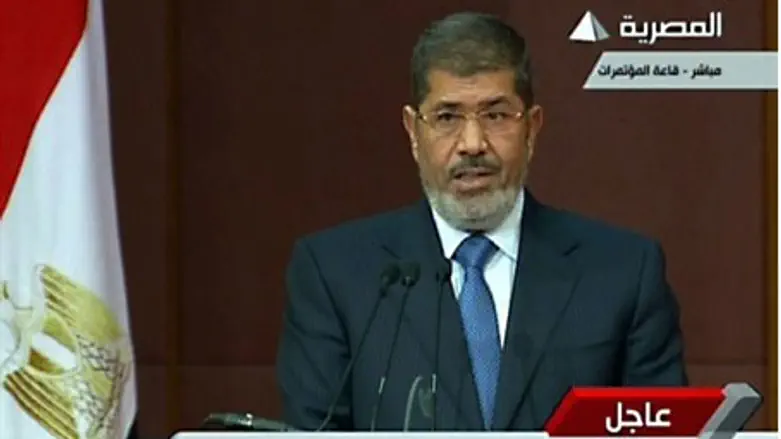 Mohammed Morsi
AFP photo
The trial of Egypt's deposed Islamist president Mohammed Morsi, on charges of inciting the murder of protesters, will start on November 4, the official MENA news agency reported Wednesday.
Morsi will stand trial with 14 other defendants over the killings of protesters outside his presidential palace in December 2012, almost six months before his ouster in July.
The former president is also facing charges of insulting the country's judiciary, state media reported last month.
Egypt's general prosecutor issued a new detention order for Morsi over his comments that judges had rigged a 2005 parliamentary election.
The deposed president has previously been accused of the "premeditated murder of some prisoners, officers and soldiers" when he and several Muslim Brotherhood leaders were freed during a breakout at a Cairo prison in January 2011.
He is also alleged to have plotted attacks on jails in the uprising that overthrew President Hosni Mubarak and of conspiring with the Hamas terrorist group in this plot.
Morsi has been held by the army since his overthrow on July 3. His location remains unknown to the general public, though several foreign diplomats who have visited Egypt visited him.
Since his removal from office, the interim government has been leading a crackdown against Muslim Brotherhood members, or Islamists linked to the group.
The army-backed government has arrested most of the leaders of the Muslim Brotherhood since Morsi was toppled on July 3, including the movement's Supreme Guide Mohammed Badie.
Egypt's army chief, Gen. Abdel Fattah Al-Sissi, said this week that the armed forces intervened to overthrow Morsi to avoid a "civil war."