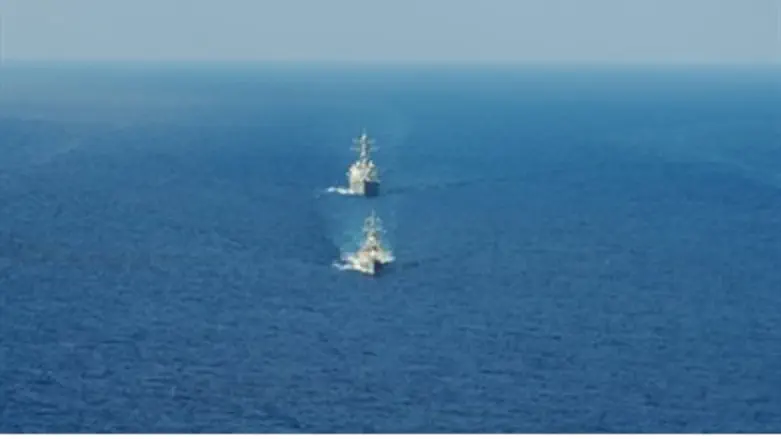 Joint EUCOM-Israeli naval exercise
IDF Spokesperson's Unit
North Korea has warned the United States of a "horrible disaster" ahead of a large-scale joint naval drill involving a nuclear-powered US aircraft carrier alongside South Korean and Japanese vessels.
North Korean troops have been ordered to "keep themselves fully ready to promptly launch operations any time", a spokesman for the General Staff of the Korean People's Army said, in a statement carried by the state-run Korean Central News Agency.
"The US will be wholly accountable for the unexpected horrible disaster to be met by its imperialist aggression forces," the statement said.
"The US should bear in mind that the Korean people and army are highly alert to promptly and confidently cope with and foil blatant provocations of any hostile forces in the world with its own powerful military muscle."
Pyongyang said the situation on the peninsula was "getting strained again" and warned the US that the closer its forces came "the more unpredictable disasters their actions will cause".
The warning on Tuesday came after Seoul and Washington last week signed a new joint strategy to counter the growing threat of a North Korean nuclear attack, after the communist country restarted an old plutonium reactor.
Analysts attributed the Pyongyang's recent aggressive rhetoric to a desire to draw attention from the US, and to coax it back into talks that have been stuck for a long time.
The naval drill near the Korean peninsula had been scheduled to begin on Tuesday, but could be postponed or cancelled due to a typhoon heading towards the area.
North Korea has often condemned naval drills of this kind and has issued threats of counter-attacks, but these have rarely materialized.
Reacting to the threats, South Korean Defense Ministry spokesman Kim Min-seok said his country's armed forces were "closely monitoring North Korean military's movements and fully prepared to take a decisive action against the North's possible provocations."
A US defense official speaking last week in Tokyo said drills of the type planned are "increasingly common" and are "designed to strengthen coordination and improve readiness to respond to situations such as humanitarian assistance and disaster relief".