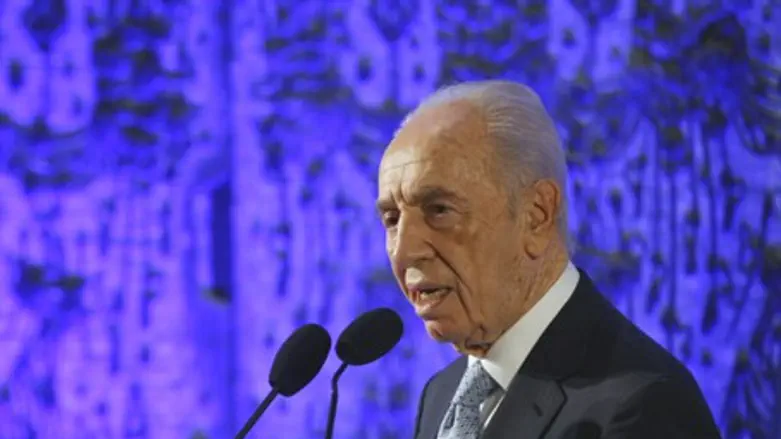 Shimon Peres
Israel news photo: Flash 90
President Shimon Peres has decided to take up the circumcision battle with the Council of Europe, which adopted a resolution last week against one of Judaism's most fundamental laws.
On Monday, Peres sent a letter to Secretary General Thorbjorn Jagland of the Council of Europe urging the council to reconsider its recent decision against circumcision.
Echoing a recent Foreign Ministry protest of the resolution, Peres noted that the ritual is thousands of years old and part of Jewish tradition and religious obligation.
He continued, "The Jewish communities across Europe would be greatly afflicted to see their cultural and religious freedom impeded upon by the Council of Europe, an institution devoted to the protection of these very rights."
Peres added, "Dear Thorbjorn, you have dedicated a large part of your career to defending the civil liberties of citizens across the world, among other things by implementing fair and equal legislature in Norway and in the European Union institutions. I know how much you value the principles of freedom of religion and trust that you will exert your considerable influence in the Council of Europe for the sake of these fundamental rights."
President Peres asked Jagland to intervene on this issue of great importance to the Jewish and Muslim communities.
European Jewish leaders have also harshly responded to the proposal that governments reassess their rules on circumcision, slamming the Council of Europe's Parliamentary Assembly's declaration that the practice is a "violation of the physical integrity of children" as anything from an expression of anti-Semitism to "insanity."
The US-based Anti-Defamation League has also blasted the council's recommendations, asserting that the resolution "targets Europe's Jewish citizens", and predicted dire results if such an anti-circumcision measure should actually become law within any of the intergovernmental body's member countries.
"Circumcision on the eighth day is nearly universally practiced among Jews, and its ban could lead to entire Jewish communities leaving Europe," ADL national director Abe Foxman said. "The resolution's suggestion for socalled 'dialogue' with religious leaders to 'overcome' this 4,000-year tradition and to adopt laws requiring a child's consent, are steps toward de facto prohibition. It is inconceivable that a Jewish community could remain in any country that banned 'brit mila.'"
The report on which the resolution is based contains "attacks" on Judaism, Foxman said.