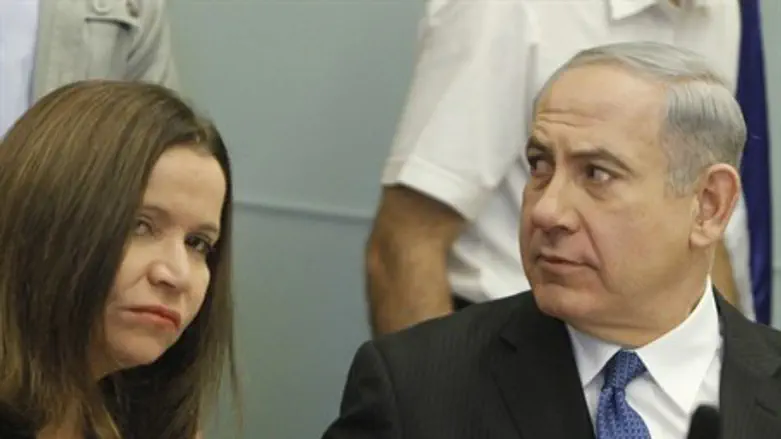 Netanyahu and Yachimovich
Flash 90
Opposition Leader MK Shelly Yachimovich (Labor) reacted negatively Monday to Prime Minister Binyamin Netanyahu's speech at Bar Ilan University Sunday, in which he linked generations of the Palestinian leadership to the ideology behind the Nazi Holocaust.
MK Yachimovich, who heads the Labor party, said that Netanyahu's "Bar Ilan 2" speech is "a trip back in the tunnel of time, and contains no new vision or any sincere effort to create a more optimistic and less dangerous reality for the citizens of Israel."
"It seems that Netanyahu was sucked back into the far right wing of his party and in Bayit Yehudi," said Yachimovich, "and that he is not at all aware of the growing desire among the public to reach an accomodation that will ensure a Jewish and democratic state for generations, and will avoid a dangerous scenario of a binational state."
Yachimovich added that according to the information that is reaching her, the current negotiations with the Palestinian Authority amount to no more than "a meaningless wallowing in place and playing for time."
Netanyahu's speech at Bar Ilan is the second major policy speech that he has delivered there. In the first speech, in 2009, he used the words "demilitarized Palestinian state" for the first time regarding a possible solution to the dispute over the Land of Israel, disappointing nationalists who hoped he would stick to his long-time opposition to the idea of Palestinian statehood.
The seconf Bar Ilan speech, however, was a reversal of sorts, in which Netanyahu made clear that as long as Palestinians refused to recognize Israel as the Jewish nation-state, there would be no deal with them.