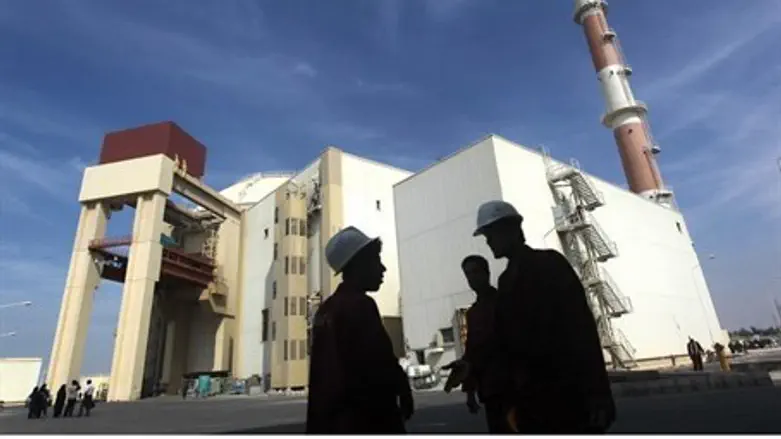 Bushehr nuclear power plant
AFP photo
Iran has arrested four people suspected of attempting to sabotage one of its nuclear plants, Atomic Energy Organization chief Ali Akbar Salehi said on Sunday.
"Some time ago, we uncovered sabotage activities by several people at a nuclear plant," Salehi said in comments carried by the Mehr news agency and quoted by AFP.
"We let them continue their activities so that we could gather more intelligence. We arrested them at the appropriate moment and their interrogation is ongoing," he added.
Salehi did not specify which of Iran's nuclear plants was targeted.
If true, the arrests are the latest in a series of Iranian reactions to attempts to sabotage its nuclear program.
In August last year, saboteurs blew up power lines supplying Iran's underground uranium enrichment plant at Fordow outside the central city of Qom.
In 2010, a U.S. cyber-attack, reportedly carried out in collaboration with Israel, hit Iran's nuclear facilities. The Stuxnet virus was tailored specifically to target uranium enrichment facilities.
"There are still viruses out there but we have taken the necessary measures," Salehi said.
"Since we uncovered the Stuxnet virus, we have reinforced our protection systems and a special unit has been set up."
In recent years, Iran has detained a number of alleged U.S. or Israeli agents accused of spying on, or attempting to sabotage, its nuclear program.
Several Iranian nuclear engineers have also been killed in what Tehran says were assassinations by foreign intelligence services.
The last victim of a known assassination was Mostafa Ahmadi Roshan, a chemist who worked in the uranium enrichment plant at Natanz, who died when an explosive device blew up on his car in January last year.
Last week it was reported that Mojtaba Ahmadi, the head of Iran's cyber warfare program, had been shot dead.
Iran's Revolutionary Guard later denied the death was assassination, saying it was due to a "horrific accident."