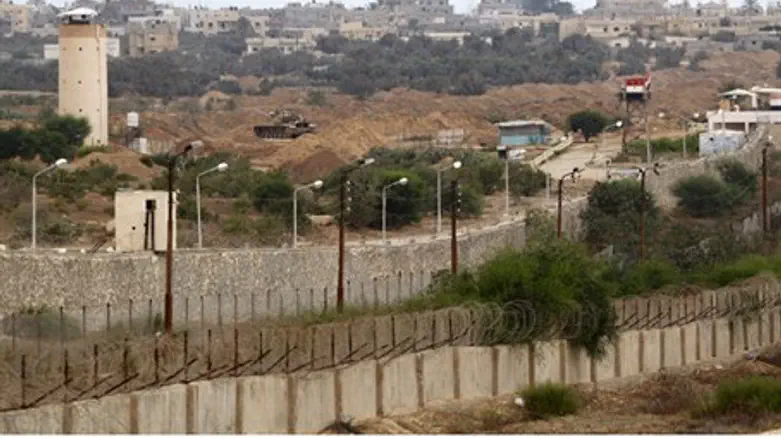 Egyptian soldiers in Rafiah
Flash 90
Egyptian authorities on Thursday allowed around 783 Palestinian Authority Arab pilgrims from Gaza to travel to Saudi Arabia for the Hajj pilgrimage, reports the Ma'an news agency.
According to the report, Egyptian authorities opened the Rafiah crossing at 9:00 a.m. to allow three groups to cross into Egypt. The first group contained 266 Hajj pilgrims, the second included 258 and the third 259 Hajj pilgrims, Egyptian officials said.
The Egyptian director of the Rafiah terminal, Sami Mitwali, told Ma'an that Egyptian authorities planned to allow 841 pilgrims to pass on Friday. Egyptian authorities will also allow 517 Hajj pilgrims to travel on Saturday, the last day for Hajj pilgrims to embark on the journey to Saudi Arabia.
Mitwali added that Egyptian authorities would allow trucks carrying Qatari construction materials to enter Gaza concurrently with the passage of Hajj pilgrims.
The decision comes after Egyptian authorities on Wednesday forced over 100 PA Arab pilgrims to return to Gaza after having entered the country to travel to Saudi Arabia for the Hajj pilgrimage.
Also on Thursday, the first large group of Hajj pilgrims from Gaza arrived at Jedda International Airport in Saudi Arabia to perform the Hajj pilgrimage, according to the media director at the PA's Ministry of Endowments and Religious Affairs, Mohammad Nawahda.
The Rafiah crossing had been closed for security reasons ever since the Egyptian army started a crackdown against terrorists in the Sinai Peninsula and Egypt has frequently closed it to the political unrest in Egypt and violence in the Sinai.
The Sinai has become increasingly lawless since the fall of former president Hosni Mubarak in February 2011, and the terror attacks have only increased since the removal of his successor, Mohammed Morsi.
In addition to cracking down on Sinai terrorists, Egypt's army has also been applying pressure on Hamas, which is blamed by Egypt for being involved in teaching Islamists in Egypt how to carry out attacks. Hamas has denied the allegations.
On Thursday, senior Egyptian officers warned that if attacks on Egyptian soldiers in the Sinai Peninsula continue, Egypt may carry out airstrikes in Gaza.
The officers said that Egyptian planes had entered Gaza airspace to study potential targets in Rafah and Khan Younis, near the southern border.
They said the military would also consider targeting vehicles bringing goods across the border. "All options are open," they warned.