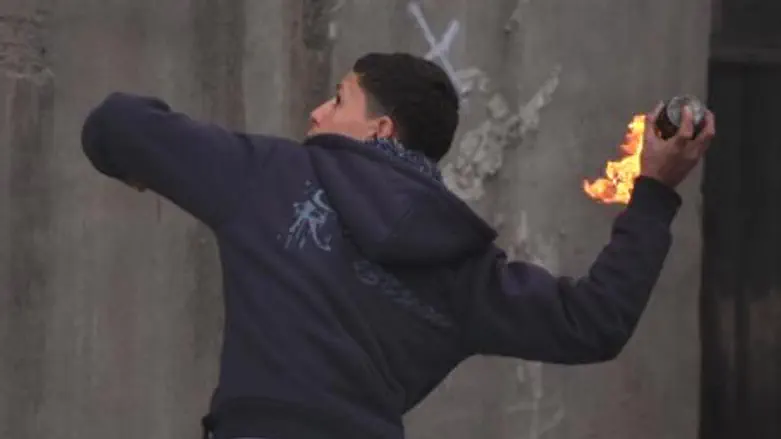 Arab youth throws firebomb
Israel news photo: Flash 90
There was a sharp rise in the number of terror attacks in Israel in September, compared to the previous month, according to the Shin Bet (Israel Security Agency).
The Shin Bet summary for September counted 133 attacks, compared to 99 in August. Most of the attacks were in the Biblical heartland of Judea and Samaria, where there were 104 attacks, compared to 68 in August.
Two soldiers were killed by Arab terrorists: Sgt. Tomer Hazan Hy"d was abducted and murdered, and First Sgt. Gal Kobi was killed by a sniper in Hevron.
In Gaza, there were three instances of rocket fire at Israel, in which a total of eight rockets were fired, and one detonation of an explosive charge.
In Jerusalem, there were 26 attacks, compared to 25 in August.
The vast majority of terror attacks in Judea, Samaria and Jerusalem – 117 out of 129 attacks – were firebomb attacks.
The Shin Bet statistics for terror attacks do not include rock attacks.
The Jews in the Biblical heartland of Judea and Samaria – including hundreds of thousands of residents and IDF soldiers – have been braving Arab terror attacks for decades, out of a conviction that the land justly belongs to the Jewish people and that Arab violence must not be allowed to prevent them from living in their historic homeland.
Attacks on Jews increased greatly at the outbreak of the terror war usually known as the Second Intifada, in 2000. the Palestinian Authority continues, on a regular basis, to incite its residents to attack Jews.