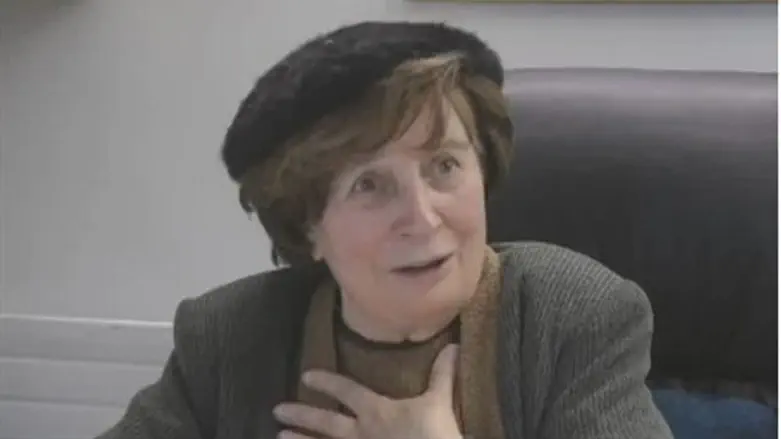 Rabbanit Tzvia Eliyahu
Arutz Sheva
Rabbanit (Rebbetsin) Tzvia Eliyahu, widow of venerated Rabbi Mordechai Eliyahu ztz"l, former Chief Sephardic Rabbi, met Thursday with Jerusalem Mayor Nir Barkat and endorsed his candidacy for a second term in the upcoming municipal elections.
Rabbi Mordechai Eliyahu endorsed Barkat in his successful run for mayor, in 2008. 
"We choose Nir Barkat because Rabbi Mordechai Eliyahu determined that he is the best for Jerusalem," the rebbetsin said. "My wishes are for Nir Barkat to continue the mission upon which he was sent by Rabbi Mordechai Eliyahu – to preserve the unity, wholeness and sanctity of Jerusalem."
Also this week, a letter of support for Barkat from Attorney Shlomo Ben Eliyahu, the son of Rabbi Mordechai Eliyahu ztz"l, was made public. "My father ztz"l advised, in the past, to elect you mayor of Jerusalem," he wrote Barkat. "Everyone knew how sharp his perception was and how farsighted he was, and acted in accordance with his advice, and indeed, we found out that he was right."
According to the public relations firm that published the letter, it was written in April, before Ben Eliyahu entered his present position as Director of the Construction and Housing Ministry.
"I wish to thank you personally for your determination to act professionally and without bias for the residents of Jerusalem, without preferring any of the sectors and the human jigsaw puzzle that it is made up of – all with a great heart and out of your deep love for Jerusalem and its residents," Ben Eliyahu wrote Barkat.
A poll conducted a month ago for Maariv showed Barkat with 44% of the share of the vote against 12% for his closest rival, Moshe Lion.
Despite Lion being a religious candidate, the Maariv poll also showed Barkat garnering around 55% of religious Zionist votes.
According to the poll, in the hareidi Ashkenazic community Lion seemed to have the upper hand with 28% against only 8% for the current mayor, but among Sephardic hareidi Jews, there was equal support for both candidates at 27% for each.
Lion, who has worked as an advisor to Prime Minister Binyamin Netanyahu in the past is attempting to unseat Barkat in the upcoming elections scheduled to be held October 22.
A successful businessman, Barkat first ran in the Jerusalem mayoral race in 2003, losing narrowly to hareidi candidate Uri Lupoliansky. He became head of the opposition on the city council, until the 2008 election when he garnered 52% of votes, defeating his main rival Meir Porush who gained 43%.