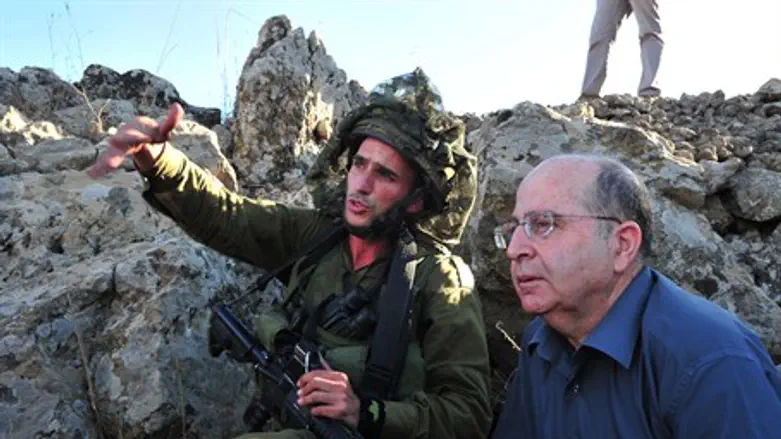 Yaalon with IDF commanders, Golan Heights
Ariel Harmoni, Ministry of Defense
On a Wednesday morning visit to a Paratroopers Brigade training exercise in the Golan Heights, Defense Minister Moshe Yaalon spoke to reporters about border incidents with Syria, Prime Minister Binyamin Netanyahu's speech at the United Nations and the IDF's battle against Jewish nationalist "price tag" vandalism.

He said there had been frequent incidents of spillover from internal Syrian fighting on Israel's Golan Heights border, and clarified IDF protocol:
"If we are able to locate the source of gunfire from Syria, we will destroy it" Yaalon told reporters. He added, there was no change in policy and the Israeli position.

"Yesterday, ammunition was fired from the other side of the Golan Heights, it resulted in a small fire and did not threaten any Israeli site security or civilian. If we are able to locate the source of fire, we destroy it and since yesterday we could not identify its origin, we did not return fire."

He stressed, "Any source of fire on Israel, whether intentional or not, will be destroyed."
Next, Yaalon was asked whether a military option against Iran was still on the table after Netanyahu's visit to the US and speech at the United Nations.

He replied: "Yesterday, the prime minister told the UN how we see the reality of the Iranian threat," a reality which, he said, was "present every day."
Despite Iranian president Hassan Rouhani's "sweet talk," he continued, "Iran is now supporting terrorism in Afghanistan and Iraq, funding and equipping Hezbollah in Lebanon, and trying to smuggle weapons into Gaza. It is also investing in terrorist infrastructure in South America and Asia. This is all going on as the centrifuges continue to turn."
He added: "Relations between Israel and the U.S. are outstanding, even though there are some disagreements on certain issues, Netanyahu and US President Barack Obama were agreed on all of these threats."

Finally, addressing nationalist vandalism, Yaalon said that recent operations by the IDF had resulted in arrests of some of those involved in the so-called "price tag" crimes, which he referred to as "terrorism."
"We condemn this activity, and know it is not characteristic of the settlement enterprise in Judea and Samaria," Yaalon added, "but unfortunately, it does tarnish its face." 
He also condemned attacks on Central Command Head Major General Nitzan Alon, who he said had fought hard to keep the peace in the Judea and Samaria regions areas under his command.