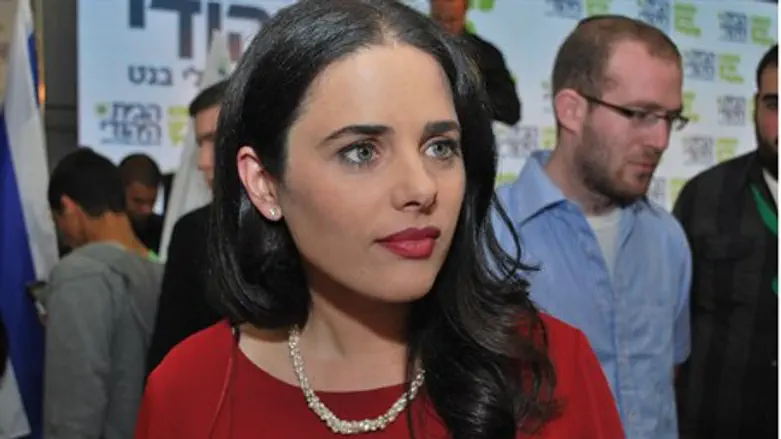 Ayelet Shaked
Artium Degel
MK Ayelet Shaked (Bayit Yehudi/Jewish Home) had tough words Tuesday for the far-left J-Street lobby organization, and for fellow parliamentarians who attended a conference held by the group.
"In the past few days, the J-Street organization has held a conference in Washington," MK Shaked wrote on Facebook. "For those who are not familiar with it – the organization was established as a counterweight to AIPAC, the pro-Israeli lobby, by elements in US Jewry who claimed that AIPAC toes a line that identifies with Israel too much."
"J Street has taken upon itself the role of Israel's loudest critic," she charged.
"Among its actions are the leading of a media campaign against the placing of sanctions on Iran by the US Congress; denunciation of the Cast Lead operation and its definition as 'an illegitimate and even criminal operation'; defining the takeover of the Marmara as 'brutal and cruel'; support for the US administration's demand to freeze construction in Jerusalem; pressure on the US administration not to veto the proposal by the Palestinian Authority to denounce Israel for construction in Judea and Samaria and more."
"In other words – you understand whom we are dealing with here," she said to her followers.
"To the conference held by this group – for which the definition of radical leftist is an understatement – came several Knesset Members, like Justice Minister Tzipi Livni, Yitzhak Vaknin of Shas, and Tzachi Hanegbi of Likud.
"And I am asking them – dear MKs, are these your friends? Are these the elements with whom you choose to identify? Your participation in the conference grants legitimacy to extreme and unbalanced criticism of Israel."
Shaked added that it is clear, today, that the Obama administration's support for Israel is "less than absolute," and accused the MKs who attended the conference of "strengthening those who led Obama to these delusional places."