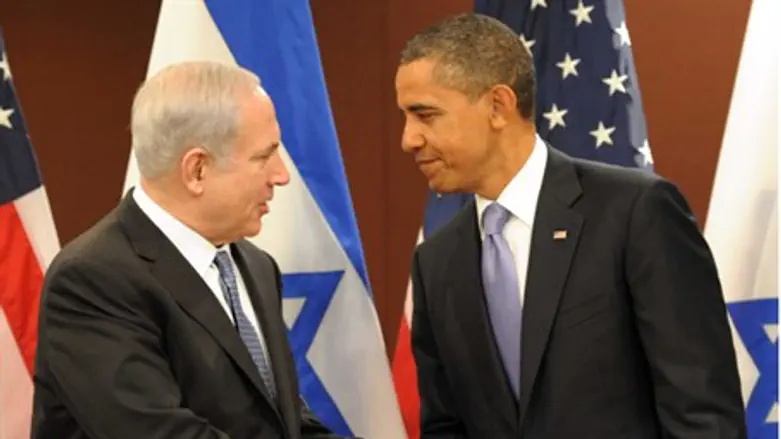 Pres. Obama and PM Netanyahu
Flash 90
At their meeting on Monday, U.S. President Barack Obama and Prime Minister Binyamin Netanyahu will discuss the negotiations with the Palestinian Authority and the recent developments in Iran and Syria, the White House announced Sunday night.
"The visit of Prime Minister Netanyahu is proof of the deep and ongoing connections between the United States and Israel, and of our close coordination on a wide range of security issues," said the White House.
The announcement added that Vice President Joe Biden will also attend the meeting which will be held in the Oval Office. After meeting the President, Netanyahu and Biden will have lunch together, said the White House.
Netanyahu arrived in New York on Sunday. After his meeting with Obama and Biden, he will address the UN General Assembly on Tuesday.
In addition, Netanyahu is reportedly planning to give a series of interviews to various press outlets, in an effort to counteract the effects of Iranian President Hassan Rouhani's "charm offensive" last week.
As he left for New York overnight Saturday, Netanyahu promised "to tell the truth in the face of the sweet talk and charm offensive of Iran."
"Telling the truth at this time is essential for world peace and security and, of course, for Israel's security," noted Netanyahu.
Netanyahu plans to tell the United Nations General Assembly that Iran has enough uranium to produce nuclear weapons, according to the Sunday Times.
Since the so-called "moderate" Rouhani was elected president, he has called for "constructive interaction" with the world, a dramatic shift in tone from the anti-Western and anti-Israeli rhetoric of his predecessor, Mahmoud Ahmadinejad.
Rouhani has exchanged letters with Obama, who wrote to him that the United States is ready to resolve its nuclear dispute with Iran in a way that allows Tehran to show it is not trying to build weapons. The two held a phone call last week, the first such phone call between an American and Iranian leader since 1979.