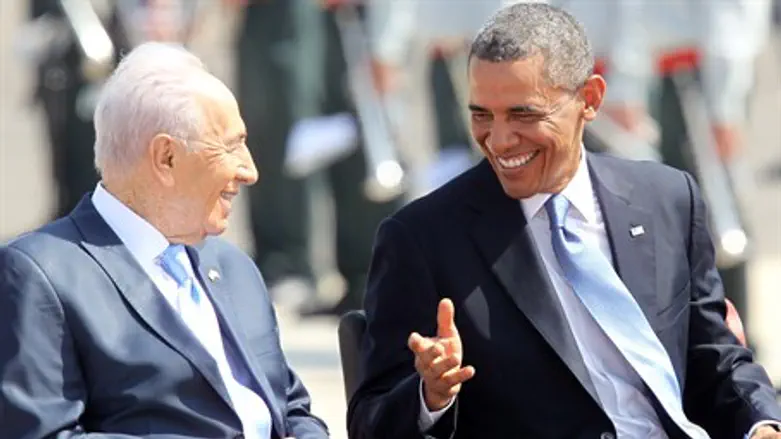 Peres and Obama
Flash 90
President Shimon Peres said on Sunday that Israel's reaction to landmark contacts between the United States and Iran had been too "scornful" of its key ally, AFP reported. 
"You can agree or disagree (with the Americans), but I don't like this scornful tone," Peres told army radio, Galei Tzahal. "Other people have brains to think too, not just us. We should talk to them and try to influence them."
His comments will be seen as undermining the current government's stance on Iranian President Hassan Rouhani's overtures to western powers, coming just hours after Prime Minister Binyamin Netanyahu left for Washington for talks with President Barack Obama, determined to expose what he described as "sweet talk" by Israel's arch-foe, Iran. 
Peres has been criticized in the past for overstepping his mandate as president (a largely ceremonial role in Israel), by openly opposing government policy and even embarking on independent initiatives of his own without government approval - conduct many have compared to his independent "secret diplomacy" with senior PLO figures in the run up to the disastrous Oslo Accords.
It was secret negotiations between then-Defense Minister Shimon Peres and PLO chairman Yassir Arafat behind Prime Minister Yitzchak Rabin's back that resulted in the Oslo Accords and the creation of the Palestinian Authority.
"Charm Offensive"
Netanyahu, along with other members of his coalition government, has repeatedly voiced his skepticism over what Rouhani's "charm offensive" towards the  international community, which culminated in a ground breaking 15-minute telephone conversation with Obama on Friday focused on Western concerns about Iran's nuclear program.
"I intend to tell the truth in the face of the sweet talk and charm offensive of Iran," public radio quoted Netanyahu as saying as he boarded his plane for the United States. "Telling the truth at this time is essential for world peace and security and, of course, for Israel's security."
Netanyahu is due to address the UN General Assembly on Tuesday, the same forum where last year he used a drawing of a bomb as a prop to underline how close he believed Iran was to being able to build one.
Israel remains adamant that Iran is bent on developing a nuclear weapons capability, something it regards as a threat to its existence.
Israeli leaders have repeatedly vowed to take military action rather than see Iran develop a bomb and have called on its US ally to take tougher action against Tehran, saying they see no real change of policy under Rouhani.