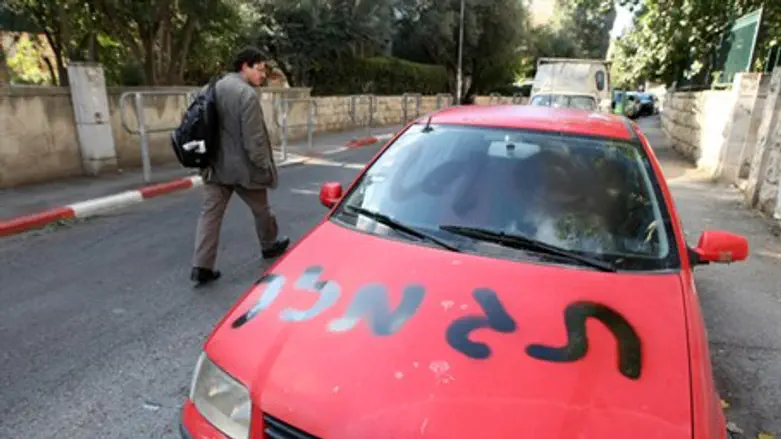 Price tag vandalism (illustration)
Flash 90
A 14-year-old and a 16-year-old, both residents of Jerusalem, were arrested Saturday night under suspicion of vandalizing eight Arab vehicles which were parked on the street near the tomb of Shimon Hatzaddik in Israel's capital.
The two teen suspects are accused of having taken a screwdriver and a key to scratch the vehicles. The two boys were taken in for interrogation by detectives from the Jerusalem police station. 
Since being taken in for questioning, the two teenagers have not cooperated with their interrogators. Their case has been transferred to the Criminal Investigation Department (CID) and will be handled by a unit which specializes in nationalistic motivated crimes committed by the "price tag" movement. 
A week ago, a similar case occurred in the same Jerusalem neighborhood of Shimon Hatzaddik next to the Red Cross building in which vandals punctured the tires of five vehicles. One vehicle was spray painted in red with "Price Tag".  Two other vehicles were spray painted with the graffiti, as well. No one was hurt in the incident which is currently under investigation, as well. 
The 'price tag' phenomenon refers to acts of vandalism and arson targeting Arabs and, on occasion, Israeli security forces, in "revenge" for Arab attacks on Jews, or for measures taken by security forces against communities in Judea and Samaria.
Another case in Jerusalem saw a young girl arrested for allegedly knocking over a metal trashcan on a car and then spitting towards the Arab quarter in the Old City of Jerusalem.
The police requested to extend her arrest, but the Magistrate Court Judge who received the request, Judge Moshe Drori, instructed that they cancel this decision and criticized the police policy. The girl was released without charges. 
The Shimon Hatzaddik neighborhood in Jerusalem has often been the site of clashes between Jewish residents and Arab and foreign activists, with residents complaining of violence and incitement by Arab and leftist-wing extremists, who have repeatedly targeted the small Jewish population in the area. Signs are frequently posted around the neighborhood calling it "illegally occupied land" in an attempt to expel Jews from their homes. Many thefts have been reported by the Jewish residents in the area, as well as stoning and other such violence. 
Last July, an Arab man attempted to stab an Israeli police officer near the Shimon Hatzaddik neighborhood in Jerusalem. The stabbing came after a dispute between the Arab, who was driving a vehicle, and the officer, who stopped the vehicle.
Residents of the area say the incident was one of many that occur often in the neighborhood and attribute the incidents to a failure by police to patrol the area properly, and for failing to arrest Arabs who commit crimes. One resident told Arutz Sheva that police were afraid to take action against Arab criminals for fear that local Arabs would riot.