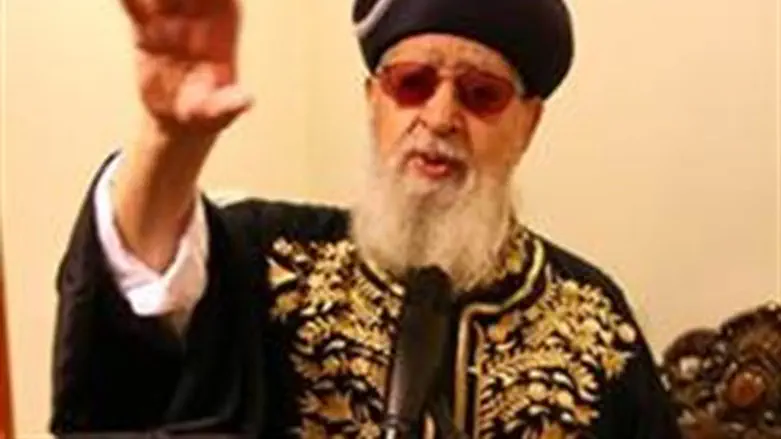 Rabbi Ovadia Yosef
Israel news photo: Flash 90
Rabbi Ovadia Yosef briefly opened his eyes on the Sabbath, his son Rabbi Yitzchak Yosef – the newly appointed Sephardic Chief Rabbi of Israel – reported Saturday night.
Rabbi Yitzchak Yosef spoke at a Torah lecture, which he delivered in his father's place.
"Father opened his eyes for several seconds this morning and moved his arm," he said. "A few days ago, the doctors weren't giving him a chance, and now, thank G-d, there's improvement."
"It's all in merit of prayer," he added. "Keep storming the heavens."
Professor Dan Gilon, the cardiologist caring for Rabbi Ovadia Yosef, confirmed Saturday night that the rabbi "is in the process of waking up" as certain medicines are being given in smaller quantities than before.
"His medical situation is still defined as 'serious' to 'very serious,' but there are a few factors that indicate that the situation is improving," Gilon said.
Doctors have been keeping the public updated on the elderly rabbi's medical situation with the family's permission.
Rabbi Ovadia Yosef is a renowned Torah scholar, a former Chief Rabbi of Israel, and the spiritual leader of the Shas movement, which is known for its Sephardic Jewish school system and its affiliated political faction.