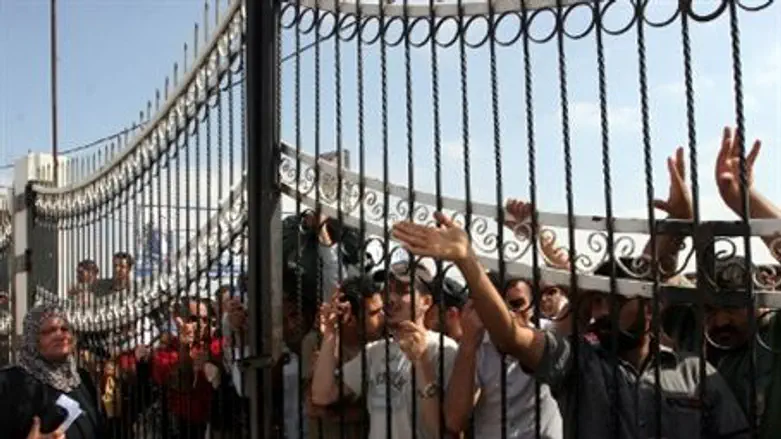 Rafiah border closed
Israel news photo: Flash 90
Egypt re-opened the Rafiah crossing with Gaza on Saturday after a nine-day closure, an official in the Hamas government said, according to AFP.
Maher Abu Sabha, director general of the crossing, said he expected 300 Palestinian Authority Arabs to cross from Gaza into Egypt by the end of the day.
The PA-based Ma'an news agency reported that Egypt had re-opened the crossing for four hours.
Around 150 people managed to enter Egypt, while 220 others entered Gaza during those four hours, Egyptian director of the Rafah terminal Sami Mitwali told the news agency.
35 trucks of construction material coming from Qatar also entered Gaza on Saturday, according to the report.
Mitwali said that the crossing will be opened again on Sunday and Monday. On Wednesday it will be opened for Muslim residents of Gaza going on pilgrimage to Mecca.
Last week, Egyptian authorities closed the Rafiah crossing, citing concerns for "the security of Palestinian citizens as Rafiah and Sheikh Zuweid continue to blaze with explosions occurring from time to time."
The Rafiah crossing had been closed for security reasons ever since the Egyptian army started a crackdown against terrorists in the Sinai Peninsula and Egypt has frequently closed it to the political unrest in Egypt and violence in the Sinai.
The Sinai has become increasingly lawless since the fall of former president Hosni Mubarak in February 2011, and the terror attacks have only increased since the removal of his successor, Mohammed Morsi.
In addition to cracking down on Sinai terrorists, Egypt's army has also been applying pressure on Hamas, which is blamed by Egypt for being involved in teaching Islamists in Egypt how to carry out attacks. Hamas has denied the allegations.