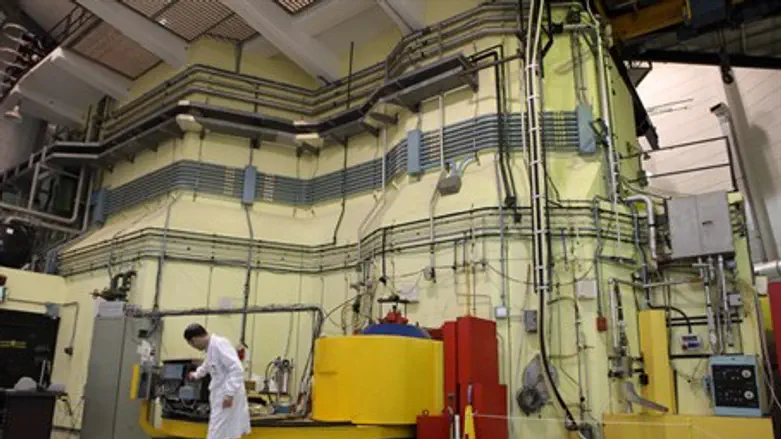 Nuclear facility (illustrative)
Flash 90
Egypt proposed on Saturday for the Middle East, including Israel, to rid itself of all weapons of mass destruction, after the UN Security Council ordered Syria to destroy its chemical arsenal, AFP reported.
Addressing the UN General Assembly, Foreign Minister Nabil Fahmy called on the five permanent members of the Security Council to show support for the idea of a Middle East free of nuclear, biological and chemical weapons.
Fahmy, part of Egypt's army-installed government, proposed that all nations in the Middle East would then commit by the end of the year to ratify agreements against weapons of mass destruction.
If all countries move forward, Fahmy said, Egypt would ratify the UN conventions banning chemical and biological weapons.
Egypt, Israel and Syria have been among the main holdouts to the two conventions.
Syrian President Bashar Al-Assad agreed to join the Chemical Weapons Convention following U.S. threats of a military strike in retaliation for a sarin gas attack last month in the Damascus suburbs that U.S. intelligence said killed more than 1,400 people.
The threat of American intervention eased after a U.S.-Russia agreement for Syria to give up its chemical weapons, which was put into force through a unanimous UN Security Council resolution on Friday.
The Egyptian proposal would also entail Israel's accession to the Nuclear Non-Proliferation Treaty.
Israel has refused to sign the treaty and is widely suspected of having a developed nuclear weapons program, although it has a policy of not acknowledging it.
Iranian President Hassan Rouhani, who sought to ease Western concerns about the Islamic republic's nuclear program during his week at the United Nations, also called on Israel to join the Non-Proliferation Treaty, as Tehran has done.
In a speech at the UN General Assembly this week, Rouhani called for a world disarmament conference that would establish a nuclear-free zone in the Middle East, then said that Israel was the only country in the region that had not yet signed the Nuclear Non-Proliferation Treaty (NPT).
Previously, a spokeswoman for the Iranian Foreign Ministry said Israel had not signed the Chemical Weapons Convention and should be forced to do so.
"It is concerning that the Zionist regime [of Israel] … is not a member of any treaty on the prohibition of weapons of mass destruction including the Chemical Weapons Convention," she said.