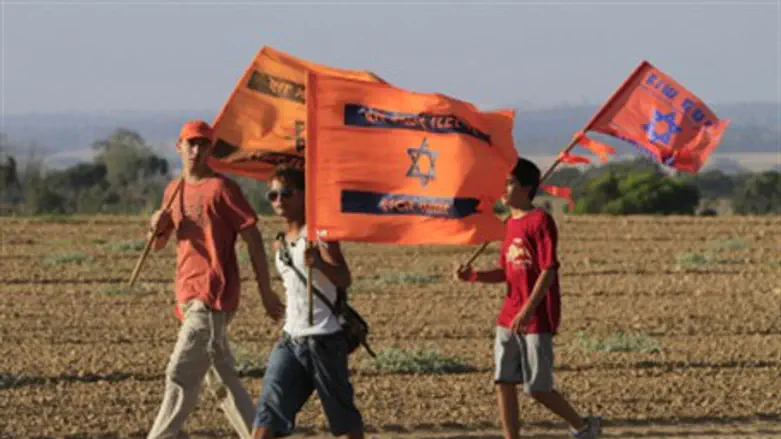 Gush Katif evictees, 2010
Israel news photo: Flash 90
A new synagogue was dedicated yesterday afternoon for the community of Bnei Netzarim, in the northwestern Negev community of Halutza, amid great fanfare and celebration.
The new synagogue has a special significance: Bnei Netzarim is comprised of Jews who were uprooted from the Gaza community of Netzarim, as part of the expulsion of 9,000 Jews from Gaza during the Israeli "Disengagement" program of 2005. The building is shaped like an arrow to symbolize the positive, forward-looking attitude of the community, but contains a dome and arches reminiscent of the old synagogue in Netzarim, which was torched by Arabs following the Israeli withdrawal. Half of the 100 families living in Bnei Netzarim are living in permanent homes, with the rest still living in temporary accommodation eight years on.
Housing Minister Uri Ariel (Bayit Yehudi/Jewish Home) and Rabbi Ya'akov Ariel of Ramat Gan, head a list of rabbis and other public figures who took part in the ceremony, along with members of the general public.
Solly Sacks, Director-General of World Mizrachi, which financed the project, lauded the pioneering spirit of the people of Halutzit.
"These are the true halutzim (pioneers) of today... the houses are growing out of the sand dunes."