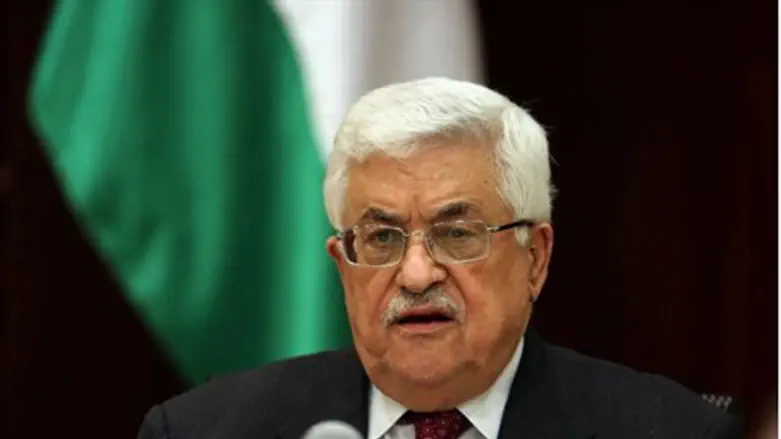 Mahmoud Abbas
AFP photo
By noontime Monday, no element of the Palestinian Authority (PA), with which Israel is conducting "peace talks" under a mantle of great secrecy, had still not issued a denunciation or statement of condolence for the murders of two IDF soldiers, on Friday and Sunday.
PA Foreign Minister Riyad Almaliki told Bethlehem-based Ma'an news after the murder of 1st Sgt. Gal Kobi in Hevron: "This is no reason to renounce the demands of peace in any way whatsoever."
He did not denounce the killing, or that of Sgt. Tomer Hazan, which preceded it by two days.
Even if he had denounced the murder, the denunciation might have seemed hollow, because the armed wing of Fatah, whose leader, Mahmoud Abbas, is also chairman of the PA, actually took responsibility for the murder. Fatah was considered a terror group for decades but was recognized as a legitimate political movement after the Oslo Accords between Israel and the PA.
Asked whether he expects the next batch of terrorist prisoners to be released from Israeli jails in the series of "gestures" agreed to by Israel, Almaliki said that the agreement on this matter was clear, and both sides are bound by it.
Meanhwile, a Hamas MP from Gaza, Mushir Almasri, voiced his belief that the attacks signal a new escalation, according to Voice of Israel public radio. He wrote on his Facebook page that "the West Bank" is "renewing the resistance" against Israel. The security cooperation between Israel and the PA has not stopped the "resistance," he added, and the negotiations have not caused it to veer off its track. He called upon "the heroes of the West Bank" to carry out a revolution against the "occupation."
Deputy Defense Minister Danny Danon (Likud) said Sunday that "peace talks" with the PA must be suspended until the PA denounces the murders and stops inciting its populace against Israel.
"We need to put the writing on the wall and say it the way it is," he said. "The PA's incitement, its glorification of terrorists, Abbas's demands to release terrorists, the funds that are transferred to terrorists including the brother of the murderer – all these create the impression [among PA Arabs] that they have to fight for these terrorists. This is incitement and we are paying the price for it."
Israel, said Danon, "should demand that the PA leadership stop inciting, stop talking in different voices in Washington on the one hand and in the mosques and on TV where they incite against the state of Israel on the other hand."
"We cannot continue negotiating with the Palestinians while they are attacking us," he said. "I've asked the Prime Minister to hold the negotiations until Abbas comes and condemns the attacks against Israelis. I believe the government of Israel will adopt my position."