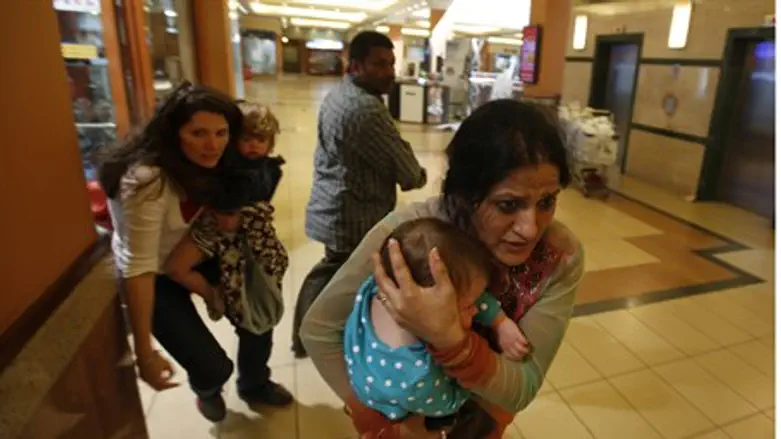 Women and children run for cover
Reuters
Al-Shabaab claimed on Sunday that there were American terrorists among those who were holed up in the Westgate Mall in Nairobi in a standoff with special forces.
According to PJ Media, the Somali Al-Qaeda affiliate tweeted a series of names on its latest Twitter account before it was suspended by the social networking site.
Al-Shabaab has been creating new accounts each time they get shut down but a movement of pro-Kenyan tweeters has been tracking down the new accounts and complaining to Twitter, the report said.
"We received permission to disclose the names of our mujahideen inside #Westgate," their latest account tweeted.
They proceeded to tweet the names one by one, including Ahmed Mohamed Isse, 22, "native" of St. Paul, Minnesota, Abdifatah Osman Keenadiid, 24, of Minneapolis, and Gen Mustafe Noorudiin, 27, of Kansas City, Missouri.
Furthermore, according to PJ Media, Al-Shabaab recently released a PR video targeted at Somali-Americans in Minnesota, trying to lure them to jihad.
Three Americans — Abdisalan Hussein Ali, Farah Mohamed Beledi and Shirwa Ahmed — from Minnesota have been suicide bombers for Al-Shabaab in a series of attacks in Mogadishu over the past few years.
Other terrorists in the Nairobi mall were named as being from locations such as Finland, Canada, the UK., Somalia and Kenya, noted PJ Media. None of the names were female, even though witnesses reported a white woman among the shooters.
The terrorists belonging to the Somali group stormed the Westgate shopping center on Saturday using grenades and assault rifles, then took hostages.
The attack has left at least 68 people dead and more than 150 wounded, according to figures provided by the Red Cross.
As of Sunday night, Kenyan security forces said night that most of the hostages had been rescued.
One report on Sunday said that Israeli security forces have joined their Kenyan counterparts in the fight to rescue the hostages in the mall.
An Israeli foreign ministry spokesperson would neither confirm nor deny the reports.
A video uploaded to YouTube on Sunday documents some of the dramatic moments from the terror attack, as they were filmed by a mobile phone in a supermarket in the mall.