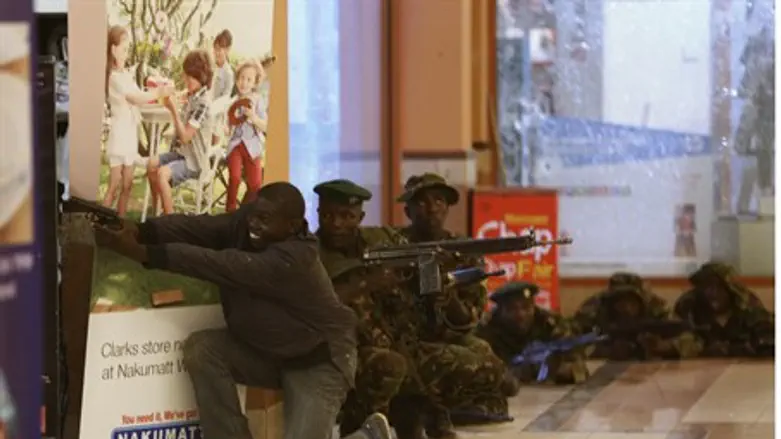 Kenyan soldiers fight terrorists in Westgate
Reuters
Several Israelis were caught up in the terrorist massacre Saturday at a popular mall in Nairobi, Kenya, that left at least 72 people dead and over 150 wounded.
Yariv Keidar, 53, described his experience during the attack, and explained how he survived as others around him were gunned down.
"I was sitting and having lunch on the balcony of a coffee shop at the entrance to the Westgate Mall in central Nairobi," he began. "It's a very popular mall with the middle and upper classes, and it's a nice meeting place."
Everything was quiet, he said – and then suddenly, at 12:25 in the afternoon, everything changed. "Suddenly I heard the sound of explosions and gunfire from every direction. A group of men on motorcycles came to the front of the mall and opened fire indiscriminately, while bursting inside."
"My immediate reaction was to lay down on the floor to protect myself," he continued. "The local woman I was with did the same, but a European man at the next table who stood and did not lay on the floor was hit by a bullet and fell."
The wounded man was later saved by waiters, who risked their lives to crawl to him and bring him out of the building.
Keidar and his companion were on the floor for half an hour. "I understood that the terrorists could reach me at any moment. That whole time I heard blasts, apparently from grenades being thrown in the mall, and intense gunfire, and the cries of the wounded.
"The whole time I thought of how to survive the massacre. I realized it was a terrorist attack, not a robbery, and I decided to hide my Israeli ID cards, like my driver's license. I managed to use my cell phone to call some senior Israeli sources and report to them.
He also called another Israeli man he knew was in the mall to check on him. The man and an Israeli employee of his had saved themselves by hiding in a bathroom, and an Israeli woman in the same area had managed to run out of the building without injury.
"At that point, I managed to take my telephone and the woman with me and to crawl from the balcony through a small gate leading to the street, and from there, out of the danger zone," he recalled.
"I saw how many people had been wounded in the horrific attack. There were mothers who had fled carrying children, and wounded people who had been brought out in shopping carts," he said.
"The Kenyan security forces arrived only after half an hour, and worked slowly," Keidar charged.
Keidar is in Kenya as a senior manager in Amiran, an Israeli company that works to develop the horticulture and floriculture industries in Kenya and elsewhere in east Africa.
Some other witnesses reported after the attack that the terrorists told Muslims to leave, and allowed several Muslims to walk away while targeting non-Muslims present. They tested those claiming to be Muslim with questions about the religion.
The Al-Qaeda-affiliated terrorist group Al-Shabaab has claimed responsibility for the attack.
Several foreign nationals were among the dead, including two French women and two Canadian citizens. Kenyan President Uhuru Kenyatta has reported that members of his extended family are among the dead as well.
One of the shooters has been killed, and several others have been arrested. However, as night fell in Nairobi, several shooters were still barricaded inside the mall, and security forces were concerned that there may still be victims trapped inside.