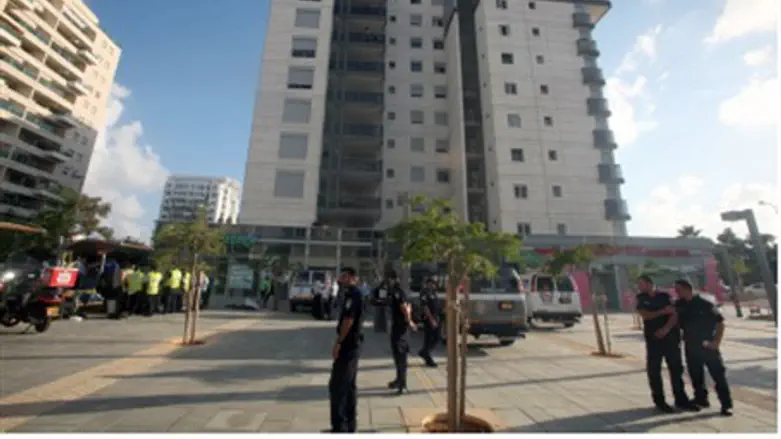 Scene of the murder-suicide
Israel news photo: Flash 90
Eli Gur, 52, of Bat Hefer, murdered his children Wednesday by throwing them to their deaths from the 11th floor of a building in Tel Aviv. He then jumped and killed himself as well.
The children were Yahav, a boy aged 5, and Eden, a girl aged 3.
Police said that Gur arrived at his home in Bat Hefer at around 3:00 p.m., attacked his wife and apparently caused her to lose consciousness. He took the children, put them in the vehicle and drove off until he reached Eliyahu Berlin street, where he took the children to the top floor and committed the dreadful act.
The couple were in divorce proceedings and the man had been distanced from his home following complaints by his wife. He was also prevented from seeing his children. He reportedly is a former policeman who worked at another job, from which he was fired two months ago.
This is the second double-infanticide case in the same week. A girl aged 5 and a boy aged 7 were found stabbed to death in their Jerusalem home Monday morning, on Ein Gedi street. Their mother, 40, was in serious condition with what may be self-inflicted stab wounds. Police suspect that the mother murdered her children and tried to kill herself.
The police said that a neighbor called them after the woman's sister asked him to do so. The sister apparently tried, unsuccessfully, to prevent the murders.
IDF Radio reported that the woman had immigrated to Israel from Ukraine or Moscow last year. She was divorced and her ex-husband did not immigrate to Israel with her.