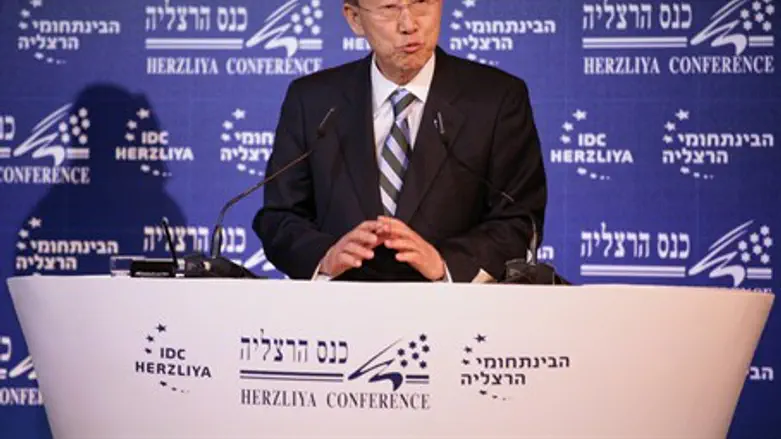 UN Chief Ban Ki-moon
Herzliya Conference
The United Nations on Wednesday hit back at Russian claims that experts who reported on the use of chemical weapons in Syria were biased.
"The terrible facts speak for themselves," AFP quoted UN spokesman Martin Nesirky as having told reporters.
Nesirky insisted that UN leader Ban Ki-moon has the "fullest confidence" in the team which reported this week.
He added the United Nations was checking with Russia's UN mission on comments made by Deputy Foreign Minister Sergei Ryabkov about the UN inspectors.
"On the face of it these reported remarks are an attempt to call into question the secretary general's investigation team led by Professor Sellstrom and the credibility of its thoroughly objective report," Nesirky said.
Earlier Wednesday, Ryabkov dismissed the UN report on Syria's chemical weapons and said Russia has received evidence of the use of chemical weapons by Syrian rebels.
Ryabkov called the UN report "politicized and one-sided." The report did not explicitly apportion blame for the attack, but Ryabov said that the inspectors only examined evidence of the August 21 attack, and ignored three previous incidents of alleged chemical weapons use.
"This analysis is not finished, so the point here is not about accusing parties," Ryabkov told Russia Today. "But the point is ... that those inspectors of the UN should come back to Syria to complete their investigation."
The United States and its allies have said the report by Swedish expert Ake Sellstrom and his team showed that President Bashar Al-Assad's force carried out an August 21 chemical weapons attack in which hundreds died.
"The mission confirmed unequivocally and objectively that chemical weapons have been used in Syria," Nesirky said, responding to Russia's accusations.
"It detailed the types and trajectories of the rockets used to deliver their lethal payload that led to the deaths of so many civilians. The environmental and bio-medical samples demonstrated the widespread nature of the attack. The terrible facts speak for themselves," the spokesman added.
"The secretary general has fullest confidence in the professionalism of his team and their work and findings," stressed Nesirky.
"They have worked impartially and to the highest scientific standards despite the exceptionally difficult conditions of the war in Syria. They will continue to do so."
Sellstrom said on Wednesday that the investigators are planning to return to Syria to follow up on more allegations of chemical weapons use.
(Arutz Sheva's North American Desk is keeping you updated until the start of Sukkot in New York. The time posted automatically on all Arutz Sheva articles, however, is Israeli time.)