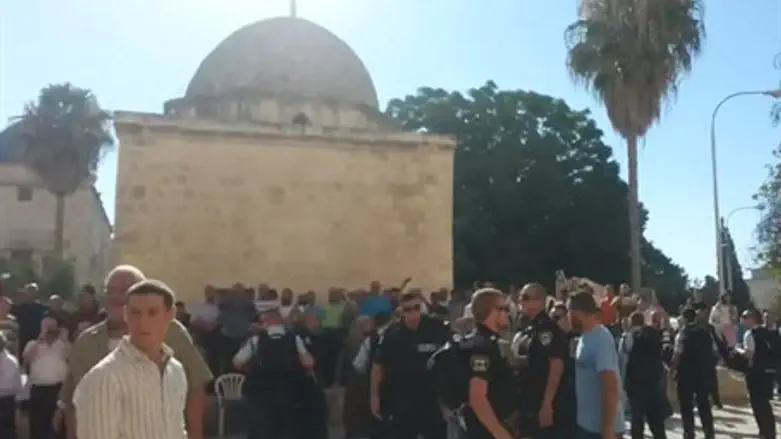 Temple Mount disturbance
Michael Fuah
Arabs attacked police forces that patrolled on the Temple Mount Wednesday morning.
The patrol was carried out on the basis of intelligence, according to which Arabs intend to throw rocks from one of the mosques. The patrol was then attacked in precisely that way, with rocks thrown from within a mosque.
Two policemen were slightly hurt by rocks and received treatment on the spot. One was evacuated for further treatment.
The forces dispersed several dozen rioters, but several dozen other rioting youths entered the mosque. Police are not letting them come out of the mosque, at the moment.
Three suspects have been arrested – one for incitement and two for rioting. Quiet has been restored and visits to the Temple Mount continue as usual.
The Temple Mount is the site of the two Holy Temples of Jerusalem, the last of which was destroyed by the Romans in 70CE, and is Judaism's holiest place.
Yet despite that fact Jews are banned from carrying out any forms of religious worship on the Mount, for fear of offending Muslim worshippers at the Al Aqsa Islamic complex which today sits upon the ruins of the Temples.
Muslim extremists regularly incite against Jewish visitors to the Mount, and Jewish visitors are sometimes face harassment and physical attacks at the hands of Muslim worshippers.