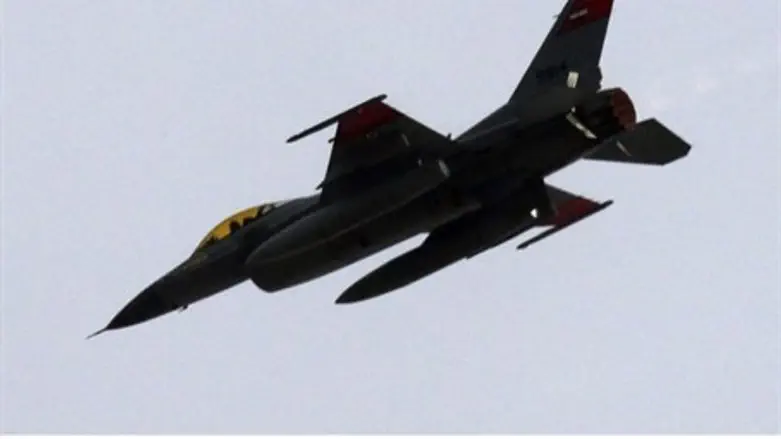 Egyptian F-16
Reuters
Egyptian Air Force jets were seen circling Tuesday in the skies of northern Sinai, over the area of Sheikh Zwaid, according to Voice of Israel public radio. Sounds of explosions were heard as the Egyptian military continued its anti-terrorist operations against Islamist militias.
Egyptian military jets are not allowed in Sinai according to the Israeli-Egyptian peace treaty of 1979. However, Israel has allowed the Egyptian military to operate in northern Sinai recently, in order to root out the terrorist infrastructure that had formed there.
In Rafah, an Egyptian soldier was reported wounded by terrorist fire on a position held by the Egyptian security forces.
The spokesman for Egypt's presidency said that the Egyptian army is operating against illegal smuggling of people, drugs and weapons along the border between Gaza and Sinai. The spokesman, Ahmed Muslimani, told BBCArabic service that the Egyptian army's action along the border between Gaza and Sinai "is meant to protect human lives and not hurt them."
He called upon people whose homes were damaged in the military action to turn to Egyptian authorities for compensation.
On Monday, the Egyptian army stormed the town of Dalga in central Egypt, 190 miles south of the capital Cairo, which has been controlled by Islamist radicals for more than two months.
Islamists seized the town as part of a backlash against the military-backed ouster of Muslim Brotherhood president Mohammed Morsi. Twice the army attempted to retake the town, but the heavily-armed Islamists managed to repel their advance on both occasions.
However, following repeated appeals for help by the town's residents – in particular its Coptic Christian population – the army successfully retook the town on Monday. This time, according to eye-witnesses, there was little to no resistance from local Islamists, as a sizable force of soldiers and police moved in, backed by military helicopters.