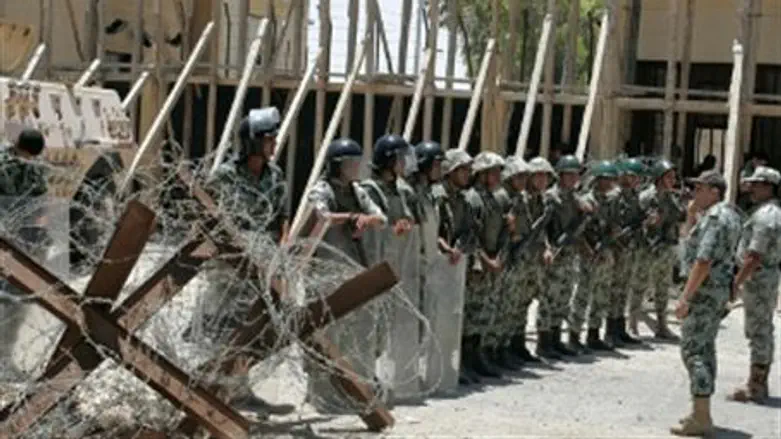 Egyptian Troops guard Rafiah crossing
Israel news photo: Flash 90
Egyptian authorities will open the Rafiah crossing between Egypt and Gaza for special cases Wednesday and Thursday, sources in the Palestinian Authority told the Ma'an news agency on Monday.
The Egyptians notified the PA that the crossing would operate four hours a day to allow patients and students to leave. The move came in response to a request by PA Chairman Mahmoud Abbas, the sources said.
The Rafiah crossing has been closed for security reasons ever since the Egyptian army started a crackdown against terrorists in the Sinai peninsula.
Ma'an reported that Abbas on Monday telephoned the chief of the Egyptian intelligence, Maj-Gen. Muhammad Tuhami, and requested that the crossing be opened to allow students and humanitarian cases to leave Gaza.
Tuhami responded positively and promised to open the crossing as soon as possible, the report indicated.
Earlier Monday, dozens of students demonstrated near the crossing protesting the ongoing closure.
The Sinai has become increasingly lawless since the fall of former president Hosni Mubarak in February 2011, and the terror attacks have only increased since Morsi's removal.
Egypt's army has been engaging in a military offensive against Sinai terrorists and, last weekend at least 10 Islamist terrorists were killed as the army launched an air and ground assault in the Sinai.
Last week, twin car bomb blasts targeting Egypt's army killed at least six soldiers in Rafiah.
In addition to cracking down on Sinai terrorists, Egypt's army has also been applying pressure on Hamas, which rules Gaza and which is blamed by Egypt for being involved in teaching Islamists in Egypt how to carry out attacks. Hamas has denied the allegations.
On Sunday, Egypt said it found evidence that links Hamas to the ongoing Sinai terrorism. Hamas denied those allegations as well.