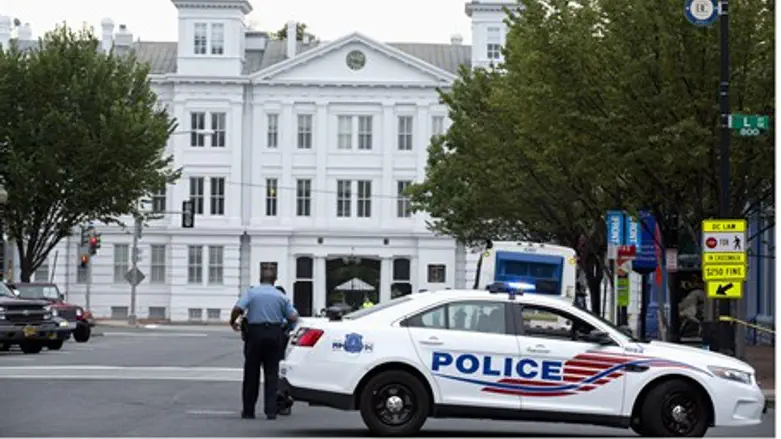 איזור הירי בוושינגטון
רויטרס
At least twelve people have been killed and four more wounded in a mass shooting at the Washington Navy Yard in Washington D.C. At least four people have been injured, and several of the victims are reportedly in critical condition.
Two of those shot were Washington D.C. police officers. One suffered gunshot wounds to the leg; the other officer's condition is not known.
At least one shooter has been killed - he was identified as 34 year-old Aaron Alexis, of Fort Worth, Texas, according to NBC News. According to reports he had recently begun working at the Navy yard as a civilian contractor.
Initial reports stated that three gunmen armed with AR-15 rifles opened fire at the yard on Monday morning (Eastern Standard Time); however, police now believe there were only two shooters. Shots were fired at the Naval Sea Systems Command Headquarters building, where roughly 3,000 people work.
Eyewitnesses described the scene as "pandemonium" as workers dropped everything and raced to get out.
Hundreds of police, SWAT and FBI response personnel are at the scene, and helicopters have been circling overhead.
Police say one shooter was shot dead, but one more gunman may still be at large.
A second shooter was pinned down between the third and fourth floor of a building at the scene of the attack for some time. Some reports said the shooter was "taken down," but others state he is still at large. There have also been reports of a third shooter.
Washington Police Chief Cathy Lanier has provided a description of two of the attackers: one - believed now to be Alexis, was described as a white male in a tan short-sleeve military-style outfit and beret hat, who was last seen about 08:35 local time carrying a handgun.
The second suspect was described as a black male of 40-50 years of age and wearing olive kit. He was last seen carrying a "long gun."
Several of the wounded remained trapped at the scene, with rescue personnel not authorized to go in to get them with gunmen still at large. They were later evacuated to local hospitals. Medical staff at Washington Hospital Center said three victims evacuated to the center were very seriously injured, but are expected to survive.
Nearby schools and public buildings were put on lockdown as the attack continued, and flights from Reagan National Airport were briefly halted.
The Naval Sea Systems Command engineers, purchases and maintains ships and submarines for the U.S. Navy. It is the U.S. Navy's oldest shore installation.
Workers and newscasters expressed surprise Monday that the attackers managed to enter the building with unauthorized weapons. Workers reported that employees may enter the building only with ID cards, and that visitors must obtain security clearance.