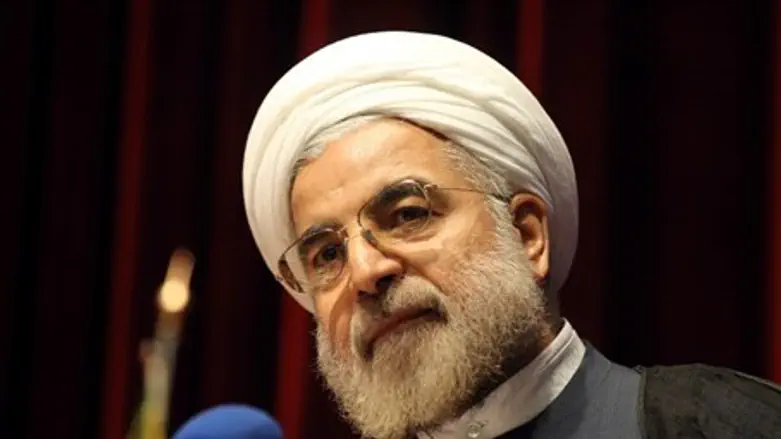 Iran's new President Hassan Rohani
AFP file
Iran's conservative press trumpeted as a "humiliating blow" the decision by its arch-foe the United States to put on hold plans for a military intervention in Syria following a surprise Russian initiative aimed at defusing the stand-off.

"By taking the Russian initiative seriously, Washington will send a signal to Tehran that it's willing to take risks and make compromises for peace," Reza Marashi of the National Iranian American Council, a Washington-based advocacy organisation, told the AFP news agency.

Moscow's initiative came as US President Barack Obama was seeking congressional approval to launch punitive strikes against the Damascus regime for allegedly using deadly sarin gas against its own people last month.

Amir Mohebian, a Tehran-based conservative commentator, says Obama's decision to put possible military action on hold "strengthens Iran's position in the region".

Tehran has provided Damascus with material and intelligence support, but denies accusations that it has armed the Assad regime to fight the uprising-turned-civil war that has claimed more than 110,000 lives since 2011. "Perhaps the Americans now understand that it is less costly to solve the Syrian crisis with Iran's help," Mohebian told AFP. "

It may also affect the issue of (Iran's) nuclear program " which Western powers and Israel suspect has military objectives despite Iranian denials. A Western diplomat in Tehran, speaking on condition of anonymity, said the Iranian leadership, who had feared a military escalation in the region, was now "relieved". "The Russian proposal has given Iran more room" over Syria, the source said.

The US, France and Israel have maintained that any action against Syria would also send a message to Iran, which is embroiled in a decade-long stand-off with world powers on its nuclear ambitions. US Secretary of State John Kerry warned last week that inaction on Syria would embolden Iran, while Israeli Prime Minister Benjamin Netanyahu said on Wednesday that Syria must be stripped of its chemical weapons as a lesson to the Islamic republic.

Rouhani on Tuesday insisted that Iran would not give up "one iota" of what it considers its right to develop a nuclear program for peaceful purposes. This strong stand, which echoes the position of his hardline predecessor Mahmud Ahmadinejad, comes as world powers prepare to restart negotiations with Tehran over its nuclear program.