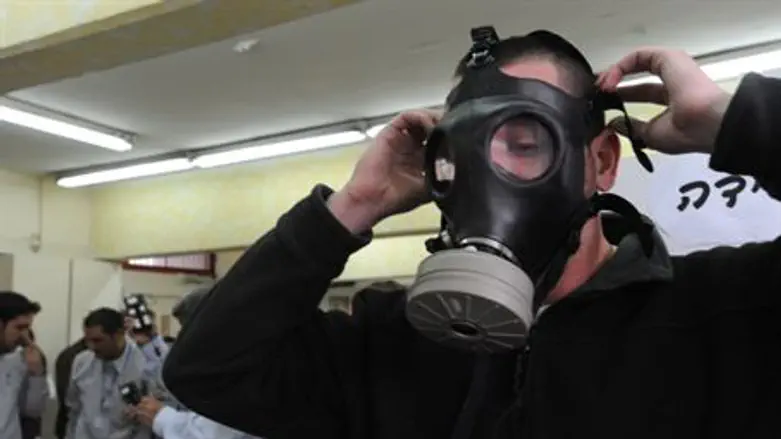 Man tries on gas mask (illustrative)
Israel news photo: Flash 90
Israel is doing what it can to guarantee its citizens' safety, but no country is ever ready for anything, Minister of Home Front Defense Gilad Erdan has said.
"No country on earth, including Israel, can be prepared all the time for any scenario or threat, because there is no economy that can withstand that," he explained, speaking to IDF Radio (Galei Tzahal). "The word 'prepared' is an absolutist word, and we'll never get to that level of preparedness."
Erdan also warned that preparedness must be balanced against Israel's other needs – and defended the decision not to open new distribution points for gas masks, despite a rush on gas masks following chemical weapons attacks in Syria.
"Even though I am not directly in charge of distributing gas masks, that's an example of the responsibility that leadership must demonstrate. With all the assessments saying that the chance of chemical weapons being used against Israel are approaching zero, there is no point to opening new distribution centers and making a purchase for billions of shekels that will come at the expense of other things," he argued.
"I can understand the public sentiment, but the government does not always need to immediately change its priorities when the public goes in a certain direction," he continued. "There needs to be a balance between routine life and emergencies."
Erdan also spoke about the legacy of the Yom Kippur war, and criticized those who argue that the lesson to be learned from the war is to constantly seek peace talks.
"The annual self-abasement, which always takes the same direction, is not always accurate in light of what we see here in the Middle East," he said.
"In every discussion since the Yom Kippur War, the conclusion I hear in the media is not that we need to bolster the IDF and improve its abilities, but rather, 'We must not miss 'opportunities' for peace,'" he said.