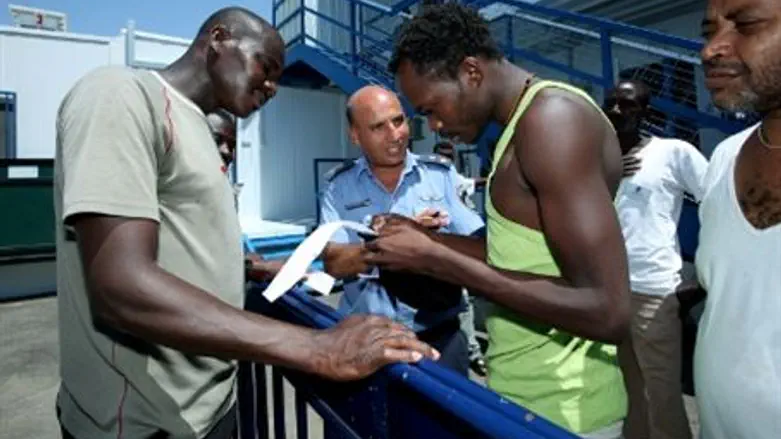 (Illustration) Illegal African immigrants
Flash 90
The Supreme Court will issue a verdict in the upcoming days regarding a 2012 law against illegal entry, Justice Edna Arbel announced Tuesday.
Arbel's announcement was made during a hearing on the legality of Israel's current procedures for dealing with illegal entrants who are charged with committing crimes in Israel. Since July, illegal entrants who commit crimes have been locked up in special holding facilities for infiltrators.
Arbel noted that the impending ruling on the legality of Israel's law against infiltration will impact the case at hand, as well as other cases involving illegal entry.
The 2012 law allows illegal entrants to be deported against their will, and to be held in custody until deportation. The law grants exemptions in humanitarian cases; for example, if an illegal entrant is a minor, or if taking him or her into custody will leave a minor unaccompanied.
Several NGOs filed suit against the new law in October 2012. The NGOs argued that the law is being used to jail young children along with their parents, and that Israel's holding facilities for illegal entrants provide extremely poor living conditions, which cause trauma for both children and adults.
The groups also argue that the law, which allows illegal entrants to be held in custody for up to three years, is in violation of both Israeli and international laws allowing illegal entrants to be jailed only for the purpose of deportation.
On the other side stand NGOs involved in fighting the phenomenon of mass illegal entry. Yonatan Yaakobovich of the Center for Israel Immigration Policy said Tuesday, "We hope the Supreme Court recognizes the importance of this law to the future of the State of Israel, and to the government's ability to deal with the problem of illegal entrants."
"The law has proved very effective in stopping the flood of illegal entry in a short period of time, before the border fence in the south was complete," he continued.
Yaakobovich warned that "if the law is cancelled, the State of Israel will have no ability to protect its sovereignty and to return illegal entrants to their homeland or a third country."