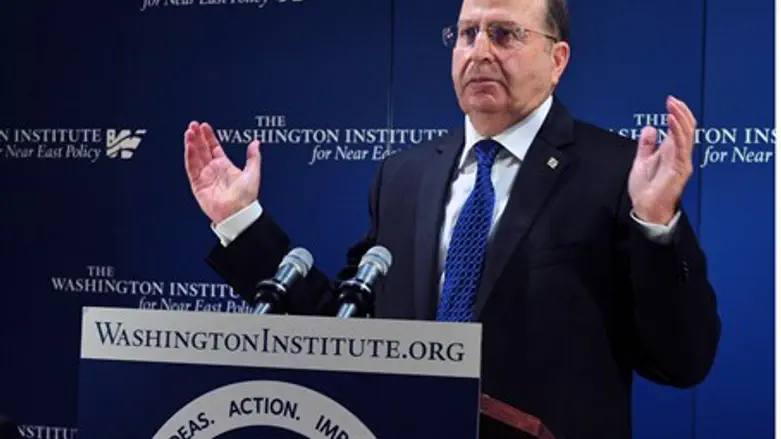 Defense Minister Moshe Yaalon
Ariel Hermoni
Defense Minister Moshe Ya'alon on Sunday stated that Syrian President Bashar al-Assad was most definitely responsible for the chemical weapons attack on Syrian citizens in a suburb of Damascus last month. Speaking at the International Institute for Counter-Terrorism's (ICT) World Summit on Counter-Terrorism, taking place at the Herzliya Interdisciplinary Center (IDC), Ya'alon said that given the situation, action was needed.
"Assad very directly and clearly used chemical weapons against his people," Ya'alon said. "We are prepared for any scenario resulting from action in Syria, as well as from inaction." Any decision the U.S. makes on whether or not to attack Syria as a result of the August 21 attack will have ramifications, and Israel needed to be prepared for both, Ya'alon said.
"We will not interfere unless Syria crosses the red lines we have set," Ya'alon said. "Our neighbors in Syria understand that if they challenge us, they will meet the strength and power of the IDF." Syria, he said, was challenging the world order, as it allied with terror groups and rogue states.
"Reality is changing at a very fast pace, in a way that is difficult for us to digest," Ya'alon added. "The forces of terror are taking advantage of this situation, and we must learn from this in order not to commit mistakes out of ignorance. We cannot be naïve and we cannot be enslaved to outmoded conceptions. We must also learn to recognize not only the shades of the current situation's threats and challenges, but also the opportunities and possibilities for new and surprising alliances in the region. We must always ask ourselves what has changed, and be able to deal with the current and future challenges."