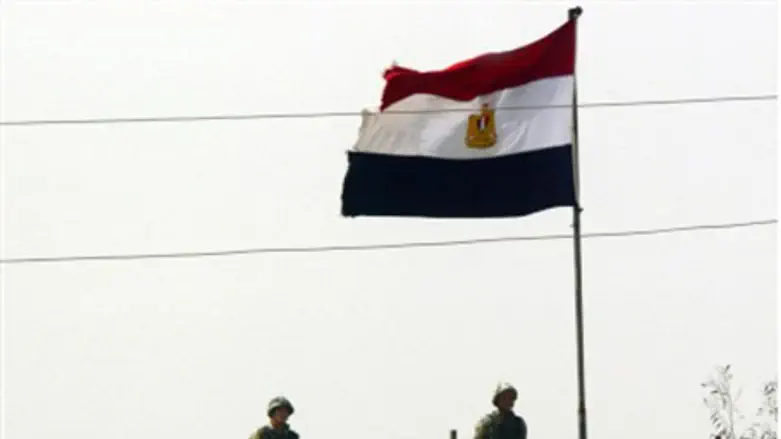 Egyptian soldiers at the Rafiah border
Israel news photo: Flash 90
Egypt closed the Rafiah crossing with Gaza on Saturday, citing "security concerns" following a crackdown on Sinai terrorists, reports the Bethlehem-based Ma'an news agency.
The Palestinian Authority's crossings director, Maher Abu Sabha, told Ma'an that the crossing would be closed indefinitely following unrest in the Sinai peninsula.
Around 50 travelers managed to enter Egypt from Gaza on Saturday, Abu Sabha added.
At least 10 Islamist terrorists were killed as Egypt's army launched an air and ground assault on terrorists in the restive Sinai Peninsula on Saturday, security officials said.
Twenty others were wounded and 15 arrested, according to the officials.
In recent months, Egypt has closed the Rafiah crossing several times following violence in Sinai.
The crossing was closed on August 15 after nationwide violence and then partially reopened two days later, only to be closed again following an attack which killed 25 Egyptian soldiers.
The closing of the border crossing has angered the Hamas government in Gaza, whose leaders have urged Egypt to reopen the border crossing.
In addition to closing down the Rafiah crossing, the Egyptian army has also clamped down on the smuggling tunnels which are used to transfer goods, weapons and even terrorists between the Sinai and Gaza.
Hamas, an offshoot of the Muslim Brotherhood, enjoyed close ties to Islamist President Mohammed Morsi and has been "feeling the heat" from Egypt's new army-backed leadership, which deposed Morsi in July.