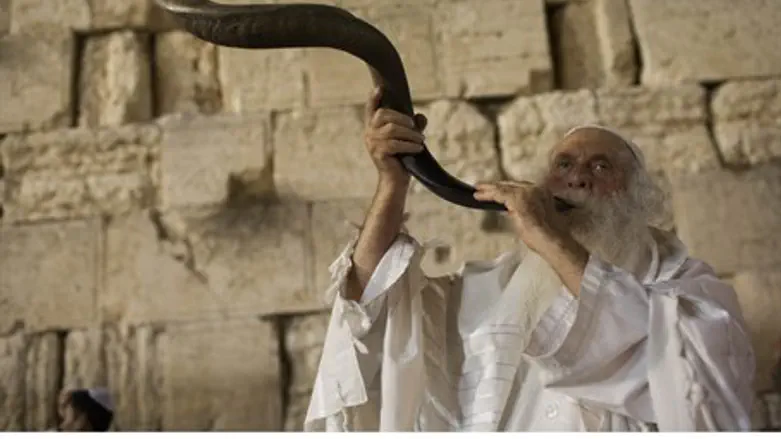 Blowing the shofar at the Kotel (Western Wall
Flash 90
The sonorous call of the ram's horn – the Shofar – will herald the start of Rosh HaShanah (Jewish New Year) and the festive Hebrew month of Tishrei on Wednesday evening. 
This year the two days of the Rosh HaShanah holiday, Thursday and Friday, are followed by the Sabbath (Shabbat), creating a three-day weekend for Jews around the world.
Hebrew calendar days begin from the previous evening; therefore, in accordance with Jewish Law, Arutz Sheva staff will be offline until the end of Shabbat, on Saturday night.
Special foods are served at the holiday meal, including an apple dipped in honey to signify a "sweet new year." Various other dishes are also served throughout the festival meals, symbolizing blessings for fertility, victory over our enemies, strength and being at the "head and not the tail" ("rosh" in Hebrew is head), among others.
Due to the Sabbath, the day-long Fast of Gedaliah, which traditionally follows the holiday, is delayed until Sunday. The fast commemorates the end of Jewish rule in the Land of Israel after the assassination of the Babylonian-appointed leader of the Jewish community, following the destruction of the First Holy Temple approximately 2,500 years ago.
10 Days of Repentance
Rosh HaShanah also kicks off the 10-day period known as the Ten Days of Repentance that culminating with the holiest day of the Jewish calendar: Yom Kippur, the Day of Atonement, which this year begins on Friday evening, September 13.
The Jewish New Year is a time for celebration, but also a time of great introspection, and taking inventory of one's relationship with G-d and with one's fellow man.
Based on the commandment in Bamidbar/Numbers 29:1, one hundred shofar blasts are dramatically sounded throughout the prayers, "awakening" us to improve our ways.
The "tashlich" prayer is customarily recited on the second day of the holiday over a body of flowing water in which fish are swimming, as a symbolic prayer for God to "cast away" one's sins.
Yom Kippur is the only Jewish fast that is not postponed in deference to the holy Sabbath. The holiest day of the Jewish calendar, the Day of Atonement begins at sunset and ends Saturday at nightfall, a total of around 25 hours.