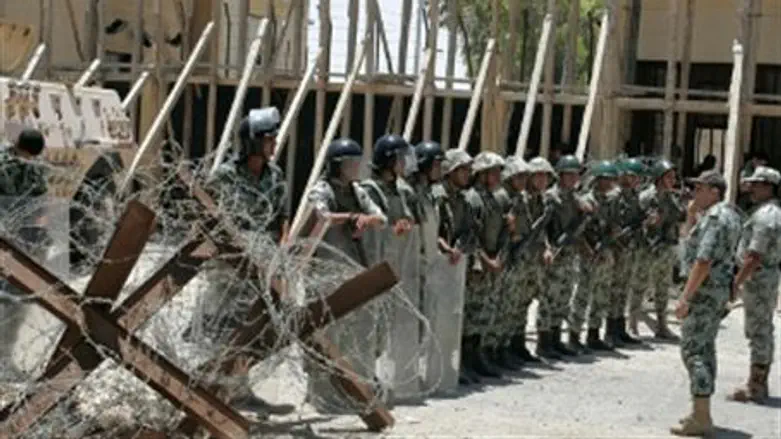 Egyptian Troops guard Rafiah crossing
Israel news photo: Flash 90
Residents who live near the Gaza border in Sinai are protesting the Egyptian army's demolishing of homes in the area. On Sunday, Egyptian forces destroyed 13 homes next to the border, in order to prevent the use of the houses as cover for smugglers into and out of Gaza.
Egyptian officials announced their intention to create a buffer zone around Gaza, 500 meters wide and ten kilometers long. The buffer zone is designed to keep Gazan Arabs, many of whom are sympathetic to the Muslim Brotherhood, out of the Sinai Peninsula, as the Egyptian Army continues its military campaign to root-out Islamist terrorist groups who have taken refuge there, mounting sporadic deadly attacks against security forces and civilians.
On Sunday, the army evicted residents of the 13 homes and demolished them. Egyptian officials said that smuggling tunnels were found under the homes.
On Sunday afternoon, the army announced that it would continue its policy of demolishing homes in the region. Several hundred protesters gathered to demand that the policy be changed, saying that many families would be left homeless.
Israeli observers said that Egypt's change of tone on demolishing Arab homes for security purposes was remarkable.
"Hopefully they will be a little less quick to condemn us for some of the things we are forced to do for security reasons, considering that they now see what we are facing."