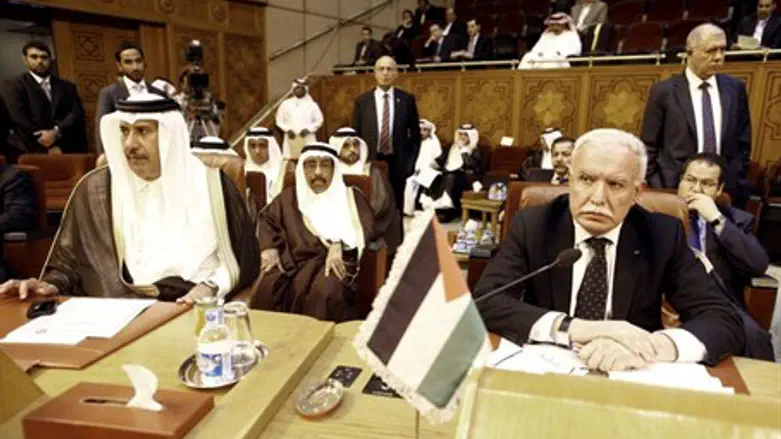 Meeting of Arab League
AFP photo
The foreign ministers of the Arab League, who are convening in Cairo, are expected to adopt a resolution in support of "any military attack" against the Syrian regime, according to Maariv.
Specifically, the foreign ministers will call for a military action to destroy the Assad regime's defense arrays, in order to open the way to the conquest of Syria by the Free Syria Army.
The Arab League has been discussing the crisis in Syria at a closed-door meeting in Cairo since Sunday morning. Ambassador-level talks were followed by the foreign ministers' meeting that was scheduled to start in the afternoon.
The meeting had been scheduled for Tuesday, but was advanced to Sunday "in light of rapid developments in the Syria situation and based on the request of several Arab states", Ahmed Ben Helli, Arab League deputy chief, said on Saturday.
Al Jazeera reported that Ahmed Aljarba, the head of the Syrian National Council (SNC), the opposition umbrella group backed by the West and Arab states, would be giving a speech at the foreign ministers' meeting
During the ambassadors' session, permanent representatives condemned the August 21 chemical weapons massacre at Ghota al Sharkiya, calling it a "horrible crime carried out with internationally prohibited chemical weapons", and placed the "entire responsibility" on President Bashar al-Assad's government.
The Arab League suspended Syria's membership in 2011 after Assad's government failed to abide by an Arab peace plan that aimed to end the conflict in Syria. In March, the 22-member organization offered Syria's seat to the SNC and decided to let its member nations arm the rebels battling Assad's government.
John Kerry, the US secretary of state, mentioned the Arab League among a list of allies "ready to respond" to the alleged chemical-weapons attack.
However, Arab League members such as Egypt, Iraq, Lebanon and Tunisia, which have faced recent internal conflicts of their own, were opposed to foreign intervention.