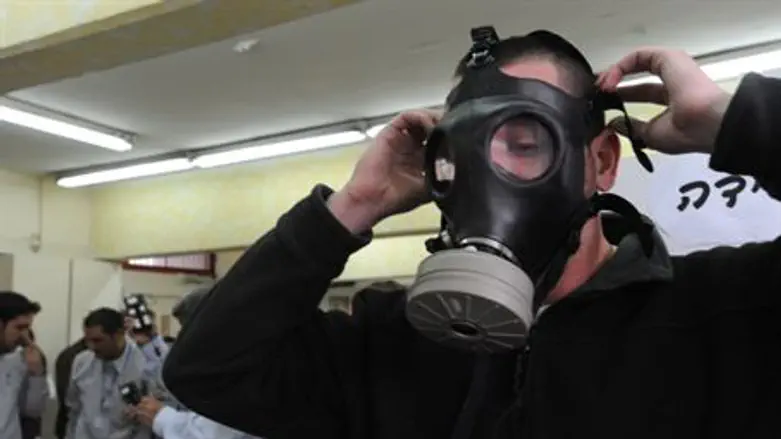 Man tries on gas mask (illustrative)
Israel news photo: Flash 90
As western military intervention in Syria appears increasingly likely, and following an explicit threat by a Syrian official that his country would respond to western strikes by attacking Israel, many Israelis are scurrying to replace old or missing gas masks, an official said on Tuesday.    
"Since the beginning of the week there has been a significant rise in the number of calls to our enquiry center, a fourfold increase," a spokeswoman for the Israel Postal Service, which distributes the gas masks, told AFP. 
The working week in Israel begins on Sunday.    
She said that actual orders for masks to be delivered by courier were up 300 percent compared to "normal" days, and added that there was also an uptick in numbers of people visiting distribution centers, but gave no figures for the visits.
Gas masks were first distributed to the general public during the 1991 Gulf War over Kuwait, when Saddam Hussein's Iraq fired 39 Scud missiles at Israel as the US-led coalition launched Operation Desert Storm.  
Syria is thought to have one of the world's largest chemical weapons arsenal, and the largest in the Middle East. The alleged use of chemical weapons by forces loyal to Syrian President Bashar al-Assad has raised concerns in Israel over the prospects of a similar attack against the Jewish state.
On Tuesday, Knesset Foreign Affairs and Security Committee Chairman MK Avigdor Lieberman (Likud / Yisrael Beytenu) said that, whilst Israel does not want to become embroiled in the Syrian conflict, it may well be forced to do so in the event of a US-led military intervention.
"We may have no choice, but I hope that everyone knows how to read the map correctly and understand that Israel has no interest in entering the whirlpool of the Arab world," he said.
Israel's Deputy Defense Minister Danny Danon also said that if Syria or anyone else were to attack the Jewish state the consequences would be clear.   
"If and when Israel is attacked we shall react, that's not new," he told public radio.    
"If we respond we shall respond seriously, as all our enemies in the region know," he said.
But some Israeli analysts insist that the danger of an attack by the Syrian regime or its Lebanese proxies Hezbollah was low.    
"The possibility that the president of Syria would turn to an attack against Israel looks low, but the defense establishment is prepared for the eventuality," public radio's veteran military affairs correspondent Carmela Menashe said.    
Washington warned Syria on Monday it would face action over the "moral obscenity" of a chemical weapons attack last week, which independent medical agency Doctors Without Borders has said left at least 355 people dead from "neurotoxic symptoms."    
Syrian President Bashar al-Assad denies that his forces were responsible, but there are growing reports that Washington and its allies are preparing to launch a punitive cruise missile strike.    
Israel says that Syrian ally Hezbollah has some 60,000 rockets and missiles aimed at it from neighboring Lebanon.    
In July 2006, Israel and the Shiite organisation fought a bloody 33-day war, during which the Jewish state's arch-foe fired thousands of missiles over the border.
The fighting devastated parts of Lebanon and killed 1,200 people there, as well as 60 Israelis.
But Menashe said that the Israeli security establishment's assessment is that Hezbollah faces domestic opposition to embroiling Lebanon in another fight.    
"Israel is prepared for the possibility of other players, such as Hezbollah, acting from Lebanon," she said. "That possibility is also low, according the assessment, mainly because of opposition within Lebanon to Hezbollah's activity and its involvement in Syria."  
Hezbollah has been fighting for months alongside Assad loyalists, triggering revenge bomb attacks by Sunni extremists in its Beirut bastion and harsh criticism from many secular and Sunni politicians.