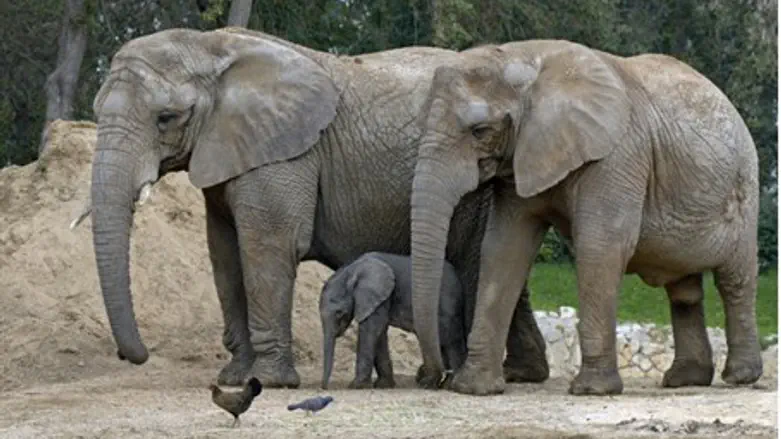 Elephants
Flash90
A project that organizers hoped would bring masses of tourists to the western Negev – an elephant park – apparently won't be getting off the ground, despite the fact that Kibbutz Nahal Oz and other investors have sunk over a million shekels into it. But despite international laws against transporting elephants, organizers are still helpful they will be able to make a go of the project.
Kibbutz Nahal Oz is located right on the Gaza border; it's name is familiar to many Israelis as a target for rockets fired at Israel by Gaza Arab terrorists. It's an area that tourists usually stay away from, but residents and officials say there really is little to fear; the area is no more vulnerable to attacks than any other part of the Negev, and in recent months the situation has calmed down considerably, they say.
So the time was ripe for a project that could increase tourism in the Sha'ar Hanegev Regional Council. The elephant park seemed like a good idea; about 100 dunams had been set aside for development into a tropical rainforest, which would be populated by dozens of Asian elephants. Tourists could hike through the area and search for elephants "in the wild," and of course there would be a play area for kids, with children able to ride on the backs of baby elephants.
Plans for the park were approved by local planning councils, and on that basis work began on preparing the site and sending a team abroad to find elephants. Kibbutz Nahal Oz invested NIS 900,000 in the project.
On Sunday, though, the regional planning council kiboshed the idea, refusing to approve it. It would be impossible to populate the park with Asian elephants, the council said, because international treaties prevent international sales and traffic of Asian elephants, as they are an endangered species.
Officials were disappointed and could not explain how a fundamental issue that affected the entire basis of the project went unchecked. However, the officials said they were hopeful they could get a permit to import the elephants, and were examining the procedures they would have to follow to appeal to whatever international authorities could issue that permit.