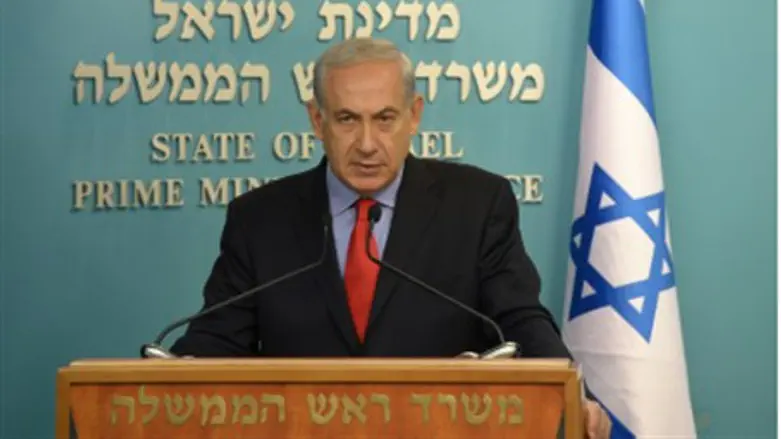 Netanyahu press statement, 22.8.1
Israel news photo: Flash 90
"We are operating on all fronts, in the north and south, in order to protect the citizens of Israel from these attacks," Prime Minister Binyamin Netanyahu said Thursday in the aftermath of a Katyusha rocket salvo fired at northwestern Israel.
"We are using a variety of measures – of both defense and prevention – and we are operating in a responsible manner. Our policy is clear: to protect and also to prevent.
"Anyone who hurts us, and anyone who tries to hurt us, must know that we will hit him."
Four rockets were fired from Lebanon Thursday afternoon, with at least one confirmed as having struck in the area of Nahariya.
Several residents have been treated for shock.
IDF Radio reported that bomb shelters in the northern city of Akko (Acre) have been opened for public use, and the IDF is urging residents of the north to remain close to shelters.
The IDF has denied earlier reports from Arabic media that it responded to the rockets with artillery fire.
Lebanese media has been reporting that at least 2 of the rockets were fired from the Ras al-Ain neighborhood of the city of Tyre.
The IDF spokesperson's unit has said it believes the rockets were fired by "global jihad" terrorists - another term for Al Qaeda-linked or inspired Sunni terroristsת as opposed to the Shia Hezbollah terrorist group.
One rocket was intercepted by the Iron Dome missile defense system, between Akko and Nahariya, the IDF said. Three others struck in "open areas."
Earlier this month, four IDF soldiers suffered light to moderate injuries on the Israel-Lebanon border, when a bomb was set off as they passed.
That attack was later claimed by Hezbollah.
This would not be the first time Sunni Islamist groups affiliated with the "global jihad" or Al Qaeda ideology have fired rockets from Lebanon into Israel.
Arieh Herzog, a former director of the Israeli defense ministry's Missile Defense Administration, warned "this kind of attack could provide (provoke) very serious action from our side."
He stressed, however, that missile defence capabilities were "much better" than they had been during Israel's 2006 war in Lebanon against Iranian proxy Hezbollah.
"We don't have enough (Iron Dome) batteries... to cover each and every city in Israel," he told reporters.
"But there's been a big change since the second Lebanon war. At that time, many rockets fell on the northern part of Israel. Our defences are much better today than in the past."
Iron Dome interception, 22.8.13 Israel news photo: Flash 90
Katyusha remains Flash 90