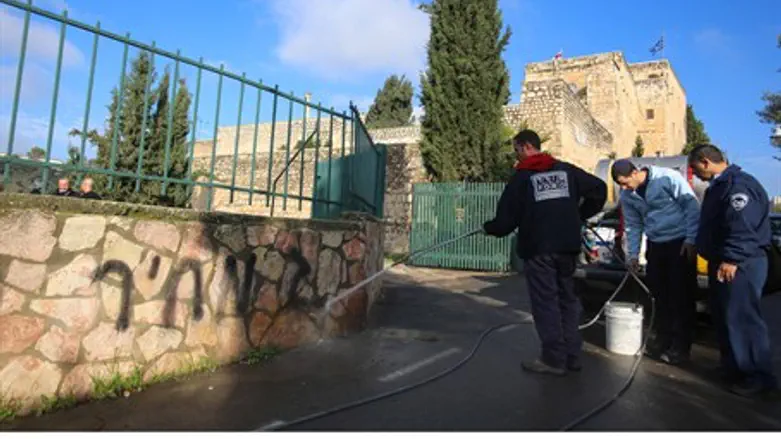 Grafitti on monastery (illustration)
Israel news photo: Flash 9 0Israel news photo: Flash 9 0
Unknown assailants threw a Molotov cocktail at the Beit Jimal Roman Catholic monastery in Israel and imprinted racist graffiti on its wall in a suspected hate crime, linked to the "Price Tag" movement, AFP reported Wednesday afternoon.
The site believed to have been originally named after Rabban Gamliel the head of the Sanhedrin [Jewish Supreme Court] and is now the home to Roman Catholic monks.
"A Molotov cocktail was thrown at the wall of the Beit Jimal monastery,near Beit Shemesh," in central Israel,  spokeswoman Luba Samri said in a statement, adding that "it caught fire."
"Hebrew graffiti was also scrawled on the monastery walls, reading 'Gentiles perish' and 'revenge,'" she added.
According to Samri, the attack was most likely carried out overnight.
"Police were investigating all directions, including nationalistic motivation," she said.n.
"Price tag"  is the Hebrew translation of "tag mechir," a phenomena in which the words are spray painted on properties as part of vandalism against Arab or leftist targets, ostensibly in response to attacks or threats against Jewish communities in Judea or Samaria (Shomron).