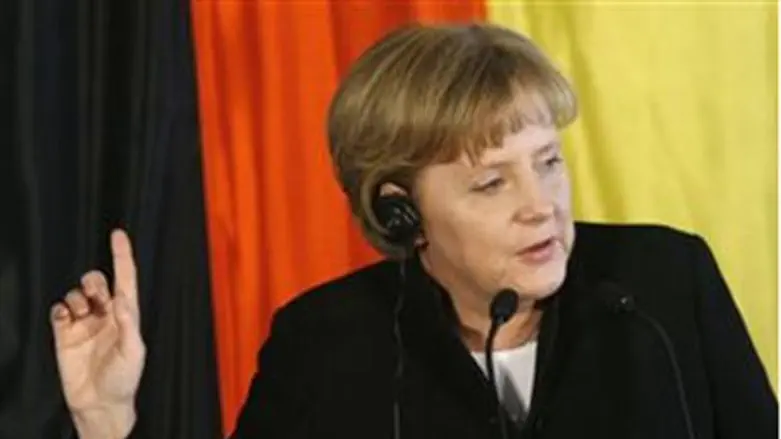 Chancellor Angela Merkel
Israel news photo: Flash 90
Angela Merkel will become the first German chancellor to visit the former Nazi concentration camp Dachau on Tuesday, as she steps up warnings about the far-right threat while campaigning for a third term.
Ahead of an evening election rally in Dachau, northwest of Munich, Merkel will arrive at the memorial at 5:45 p.m. local time. After making a short speech, she will lay a wreath of flowers and tour the remnants of the camp.
But while Holocaust survivors hailed a long overdue gesture, the opposition blasted a "tasteless" combination of electioneering and historical atonement.
Merkel, 59, will be joined by the president of the Dachau camp committee, Max Mannheimer, and other former prisoners. Only part of the visit will be open to reporters.
The 93-year-old Mannheimer had long lobbied for Merkel to go to Dachau and said he saw her decision as "historic" and a "signal of respect for the former detainees".
The Nazis opened Dachau as a concentration camp for political prisoners in March 1933, just weeks after Adolf Hitler took power.
It was the first such site in Germany and served as a model for all the camps to follow.
More than 200,000 Jews, gays, Roma, political opponents, the disabled and prisoners of war were imprisoned in Dachau during World War II.
Over 41,000 people were killed, starved or died of disease before US troops liberated the camp in April 1945.
The memorial now attracts some 800,000 visitors each year.
Although it will be the first visit by a German chancellor to Dachau, Merkel has gone to other former Nazi concentration camps, including Buchenwald, where she accompanied US President Barack Obama in April 2010.
And former president Horst Koehler, whose office is largely ceremonial, attended commemorations of the 65th anniversary of the Dachau liberation three years ago.
In her latest weekly podcast, Merkel warned that Europeans must remain vigilant against Holocaust deniers and right-wing extremists.
"We must never allow such ideas to have a place in our democratic Europe," Merkel said, adding that she would travel to Dachau with "feelings of shame and dismay".
After her visit, Merkel will hold a campaign rally ahead of a Bavarian state poll and the German general election next month.
A leader of the opposition Greens party, Renate Kuenast, slammed Merkel's program as a "tasteless and outrageous combination".
"If you're serious about commemoration at such a place of horrors, then you don't pay such a visit during an election campaign," she told the daily Leipziger Volkszeitung.
Munich newspaper Sueddeutsche Zeitung noted that German leaders commonly paid tribute to the Nazis' victims abroad but rarely at the camps in Germany itself.
But it said it was "unwise" that the chancellor's first visit to Dachau since taking office in 2005 came "on the sidelines of a campaign appearance in a beer tent at the Dachau funfair".
However the leader of Munich's Jewish community, Charlotte Knobloch, defended Merkel, calling it "admirable" that she was taking time out of a planned trip to the region to go to Dachau.
Historian Michael Wolffsohn of the military's Bundeswehr University said that despite the timing there was no reason to believe that the visit to the camp had anything to do with the popular Merkel's re-election drive.
"For starters it's hard to draw much enthusiasm in this country with policy on (German) history, particularly in relation to National Socialism," he told the daily Tagesspiegel.
"However something has changed in recent years -- there is apparently no longer any (political) risk involved in visiting a Nazi memorial at the height of the election campaign.
"Merkel's choice is... a sign that Germans' relationship with their history is becoming more relaxed."
The director of Bavaria's historic memorials, Karl Freller, said that interest in the former concentration camps had jumped since the start of a neo-Nazi murder trial in Munich in May.
A far-right trio known as the National Socialist Underground is believed to be behind 10 murders over a seven-year period, with most of the victims immigrant shopkeepers.
"Apparently the trial has had the effect of making people want to focus more on National Socialism" or Nazi ideology, Freller told Die Welt newspaper.