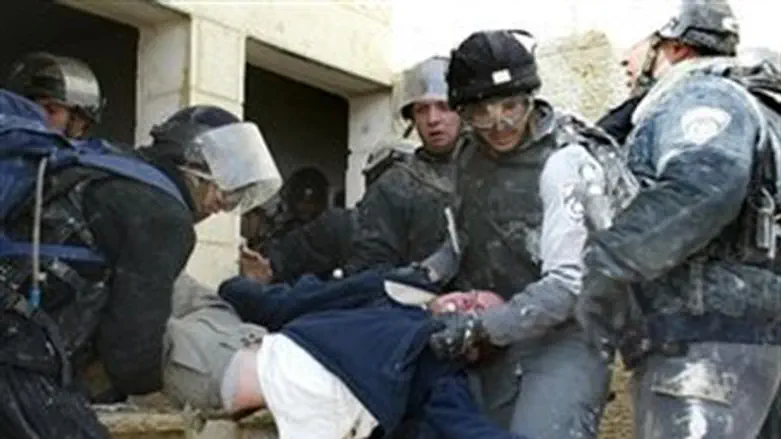 Police violence (archive)
Israel news photo: Flash 90
Police Commissioner Yohanan Danino issued a temporary ban on taser use on Sunday in response to a public outcry over police violence during an arrest last week.
However, instead of ending the outcry, Danino's order has brought on new criticism. Avi Naim, a local politician in the Binyamin region, accused Danino of trying to blind the public to the real problems.
"The taser gun isn't the problem. On the contrary, the taser is a non-fatal device that needs to replace most of the guns in most Israeli public institutions," he argued.
"The problem is the unnecessary violence that Yassam police demonstrated toward an Israeli citizen. The ease with which they burst into a home, and, with the family and children present, use excessive and unnecessary force – that is the ill that must be torn up at the roots," he argued.
Police who arrested Boaz Albert in his home in Samaria twisted his arms and shot him repeatedly with a taser despite the fact that he was not resisting arrest. A video of the incident was made public and led to backlash against the police.
Police were criticized by politicians from across the political spectrum. MK Zahava Galon of the left-wing Meretz party said, "It's impossible not to be nauseated when seeing the Yassam officers using the teaser over and over against the settler Boaz Albert, who is on the floor groaning in pain."
"There's no justification on earth for using this cruel weapon against a person who did not use violence and was not a threat… Tasers are a weapon that have proved dangerous," she warned.
Galon also attacked the use of administrative orders, such as the order against Albert that was the reason for his arrest.
"I think the use of administrative orders against settlers, against Palestinians and against anyone is cowardly and despicable, and becomes the standard method for escaping the need for a fair trial," she accused.
MK Orit Struk of Bayit Yehudi called to end the use of administrative orders as well, and has asked MKs to re-sign a 2007 Knesset measure that urged severe restrictions on the use of administrative measures.
MK Miri Regev (Likud) too expressed upset over Albert's arrest. "The violent arrest of Boaz Albert shocked me," she wrote on Facebook. "The use of the taser on Albert was extreme and humiliating."
"Albert was on the ground, he wasn't threatening the police. So on the face of things, police used undue force," she added.
She welcomed Danino's decision to halt the use of tasers, but added that she expects him to present the Knesset with the results of an investigation regarding Albert's specific case, as well.