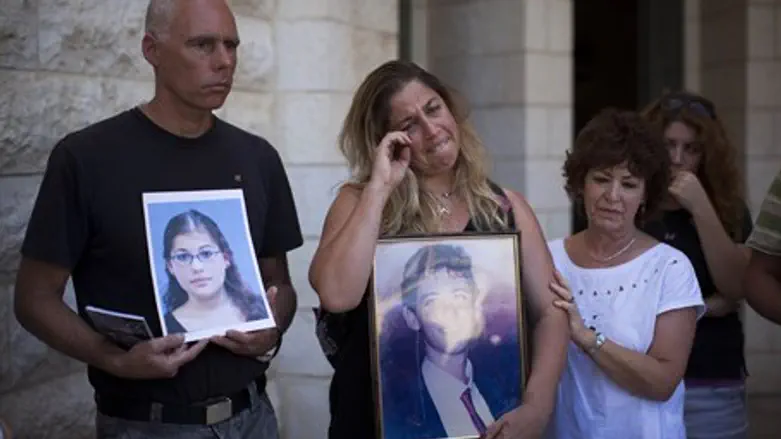 Families of victims of terror protest prisone
Flash 90
On Tuesday, a group called The Bereaved Families for Peace and Justice sent out a letter to the office of U.S. Secretary of State John Kerry, asking him to meet with their representatives, to discuss the release of 104 terrorists that Israel agreed to free.
The members of Bereaved Families for Peace and Justice share a common grief of having a child, parent, or sibling murdered by Palestinian Arab terrorists.
These same criminals who have been imprisoned in Israel will be relieved of their life sentences in exchange for renewing negotiations with the Palestinian Authority, which will be mediated by the U.S.
The bereaved families turned to the United States and the Obama administration in their letter to Kerry saying, "We have paid an unbearably high price for this generations-long conflict. We know it must end. But the process of making it end cannot be built on a foundation of glorifying the bombers of restaurants and of buses."
Arutz Sheva spoke with one of the members of the group, Yossi Zur, who lost his 17-year-old son, Asaf, in a 2003 Haifa city bus bombing. Zur very adamantly stated that he will not accept any more rounds of terrorist releases, saying that he will fight the next three releases the same way that he fought the first.
Zur and the rest of the members reject the way the government has handled the political pressure to free "so-called pre-Oslo" convicted terrorists. He further stated that "80% of Israelis are against this release and we feel we paid the price for either Kerry's agenda or Netanyahu's on Iran; probably both."
"Not everyone in Israel agrees to its [U.S. Administation] dictating how Israel should act," Zur said. "Especially on issues the U.S. is not willing to take the same actions," he added.
The Letter
On the letter were 18 signatures signed by bereaved families from across the country of Israel. The letter stressed that the decision to free convicted terrorists is a very tragic mistake.
The letter had also cited a British Channel 4 documentary called "Inside the mind of a suicide bomber" which interviewed Majdi Amro, a terrorist who took part in murdering several teenagers on a Haifa bus, including Asaf Zur.
Amro said to the camera, ""I am not worried! I will not be in jail for long. I will be out shortly and will go back to killing Jews." Indeed, Amro was freed from jail two years ago in exchange for the Israeli hostage, Gilad Shalit.
This account, among the many others of convicted terrorists, provides the grounds for arguments that releasing terrorists will cause more terror, reverse orders from the judicial system and send a sickening message to Israeli citizens at large.
In the final paragraph of the letter to Kerry, the group imparts:
"We say to you, as US Secretary of State, Meet with us. Let us explain why being complicit in turning the killers of our children and parents into heroes and 'freedom fighters' must not be part of any policy befitting a great nation and moral exemplar like the United States. It is not too late."